"La menace avait trop longtemps grandit... Trop d'années a fermer les yeux sur la prolifération des orcs aux frontières de l'Empire, trop d'années à combattre les incursions des peaux vertes et des ogres sur les terres fertiles qui bordent le grand désert... A trop vouloir la paix, c'etait une horde de créatures sauvages et destructrices qui menaceaient aujourd'hui les restes de l'armée de la cohalition... La situation était désesperée... Assurant les arrières d'une armée humaine décimée, un bataillon du fier peuple nain, un ost de hobbits gloutons, et le clan de la Lune des forêts sombres tenaient une dernière ligne de bataille face au hordes du désert sans fin: orcs, ogres et quelques gobelins opportunistes. La route étant coupée, seule comptait maintenant la victoire ou la mort..."
"The threat has been growing too long ... Too many years to ignore the proliferation of orcs on the borders of the Empire, too many years to fight the incursions of green skins and ogres on the fertile lands bordering the great desert ... To want too much peace, it was a horde of wild and destructive creatures that threatened today the remains of the army of cohalition ... The situation was desperate ...Assuring the rear of a decimated human army, a battalion of the proud dwarven people, a host of greedy hobbits, and the clan of the Dark Forest Moon held one last line of battle against the hordes of the endless desert: orcs, ogres and some opportunistic goblins. The road being cut, only now counted victory or death ... "
Objectifs du scénario
Contrôler le plus de point possible représenter par les statuts de Bouddha à la fin de la partie. Mettre en déroute l'armée adverse.
Control as many points as possible represented by Buddha's statutes at the end of the game. Defeat the opposing army.
Placement des statues
Une statue est placée au centre de la table, une statue par adversaire est placée par lui à la limite de sa zone de déploiement.
A statue is placed in the center of the table, one statue per opponent is placed by him at the limit of his deployment zone.
Conditions de victoire
La partie s'arrête lorsqu'une des deux armées est entièrement détruite, ou lorsqu'il reste autant d'unité sur la table que de statue. La statue du centre rapporte 2 points, la statue de l'adversaire rapporte 3 points, et la statue placée dans notre zone de déploiement rapporte 1 point... Si elles sont contrôlées au moment ou la partie s'arrête. Pour contrôler une statue, une unité doit se situé à un pas d'elle sans qu'il y est une unité adverse aussi à un pas.
The game ends when one of the two armies is completely destroyed, or when there is as much unity on the table as there is statue. The statue of the center is worth 2 points, the statue of the opponent is worth 3 points, and the statue placed in our deployment area is worth 1 point ... If they are controlled at the moment the game ends. To control a statue, a unit must be at one step from it without there being an enemy unit also at a step.
Déploiement
Définissez avec un jet de dès qui commence a poser. Chaque joueur pose tour à tour sa statue dans sa zone de déploiement, puis tour à tour une unité de son armée jusqu'à ce que son armée soit entièrement sur la table. Le premier joueur à terminer de poser choisit qui commence la partie.
Define with a throw of as soon as you begin to pose. Each player places his statue in his deployment zone, then in turn a unit of his army until his army is entirely on the table. The first player to finish is choosing who starts the game.
Compte-rendu de la partie
La Hordes... The Hordes ...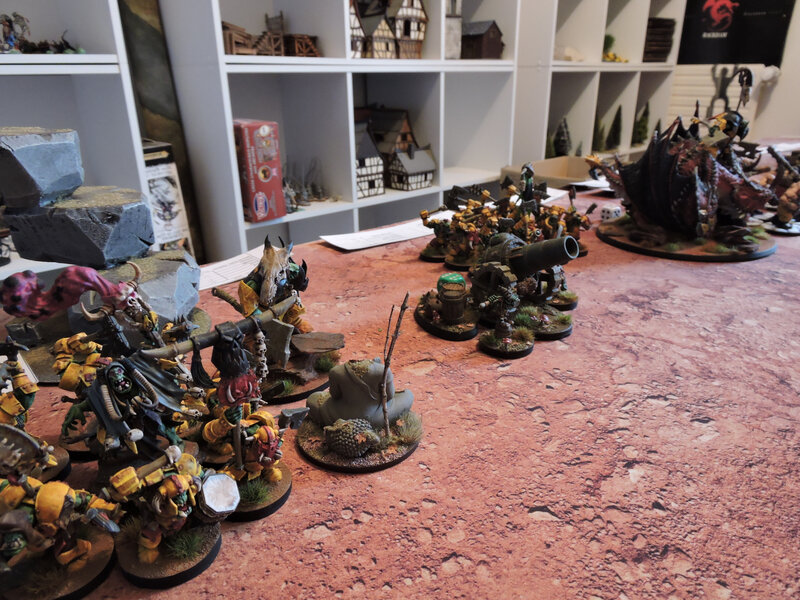 L'infanterie lourde soutenue par un shaman et un canon gobelin sur le flanc droit... Heavy infantry supported by a shaman and a goblin gun on the right flank...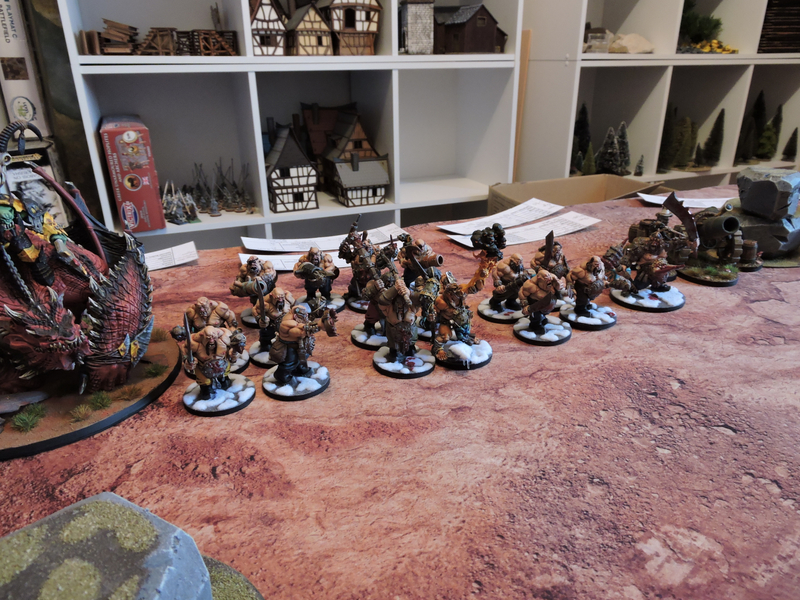 Sur le flanc gauche, l'infanterie lourde et l'infanterie beliqueuse supportées elles aussi par un canon. Au centre, le général sur son dragon... On the left flank, the heavy infantry and belting infantry also supported by a gun. In the center, the general on his dragon ..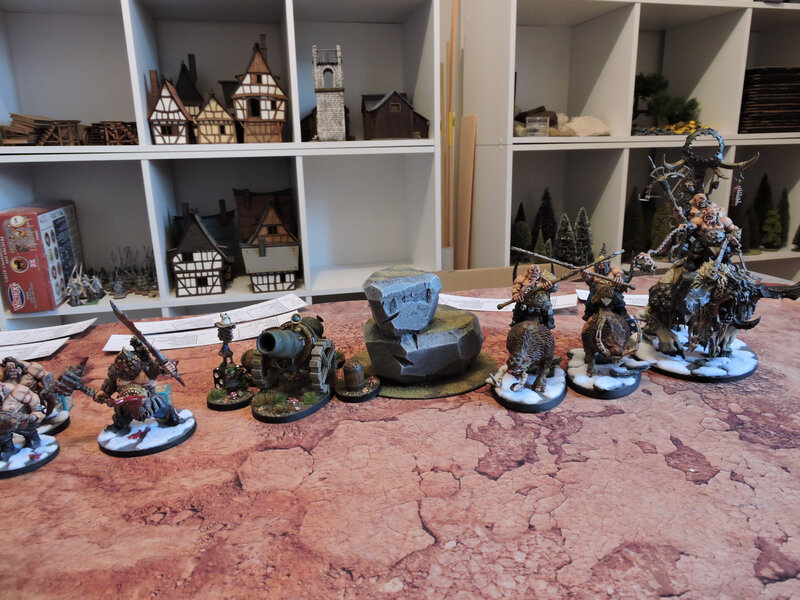 Les cavaleries lourdes et d'élites prêtes a en découdre...Heavy cavalry and elite ready to fight ...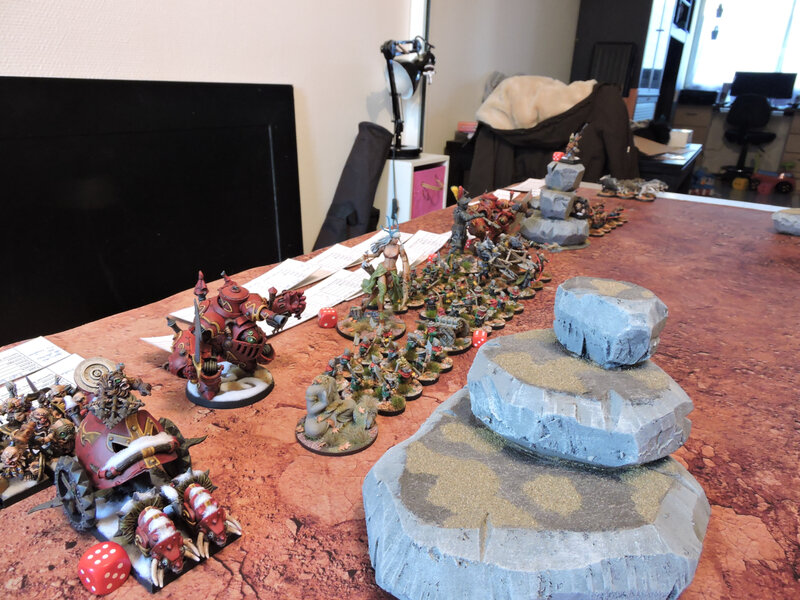 Au centre du dispositif de l'alliance, l'ost hobbit, sur le flanc droit, le mur de fer nain, chacun soutenu par un golem à vapeur... L'avatar d'Yllia, déesse de la Lune commandant les troupes. At the center of the device of the alliance, the ost hobbit, on the right flank, the dwarf iron wall, each supported by a steam golem ... The avatar of Yllia, goddess of the Moon commanding the troops.
Le clan de la Lune, elfes, wolfens, supportés par un canon nain... The clan of the Moon, elves, wolfens, supported by a dwarf gun ...
Les loups géants flanquant le dispositif à gauche... The giant wolves flanking the device on the left ...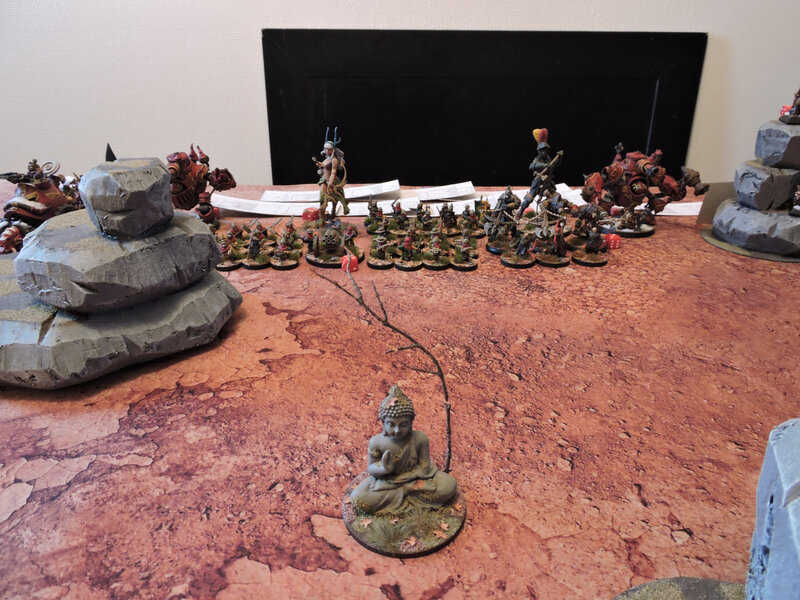 Objectif, le centre du champ de bataille, c'est ici que tout va se jouer! Objective, the center of the battlefield, it's here that everything will be played!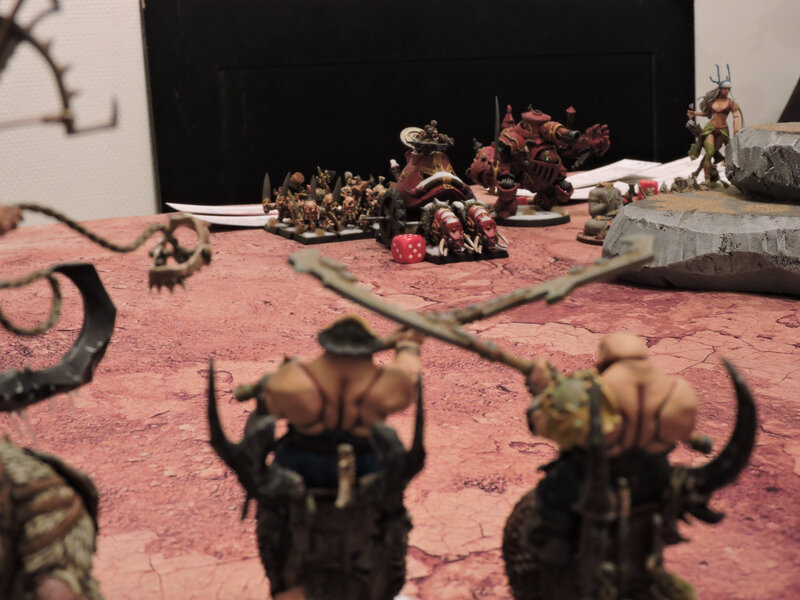 La Bataille commence! La cavalerie ogre s'élance! The Battle begins! The ogre cavalry rushes!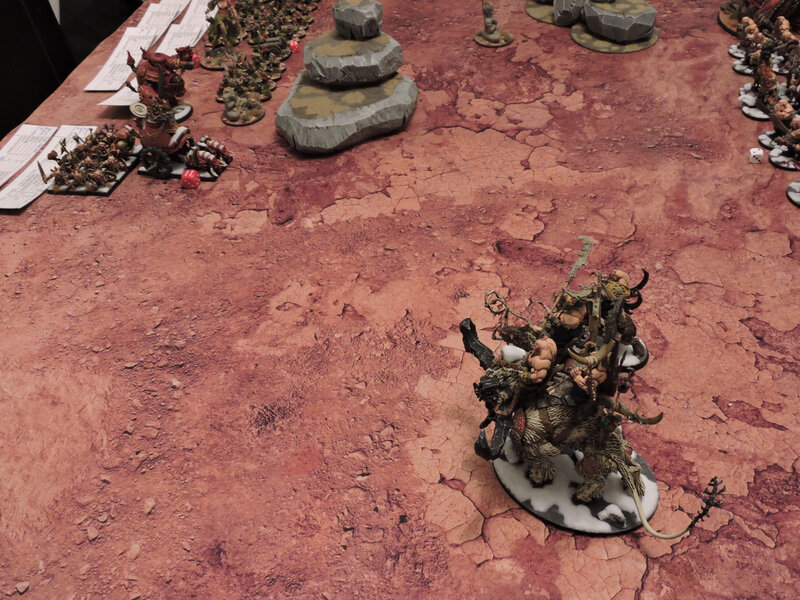 La cavalerie d'élite se rapproche pour tirer... The elite cavalry is getting closer to shoot ...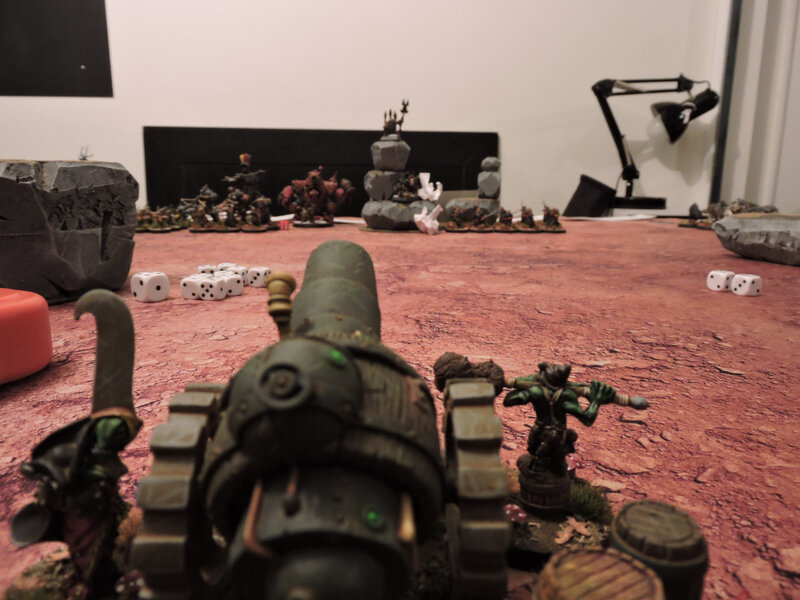 Le canon gobelin prend à partie son homologue nain bien retranché... The goblin gun takes part of his dwarf counterpart well entrenched ...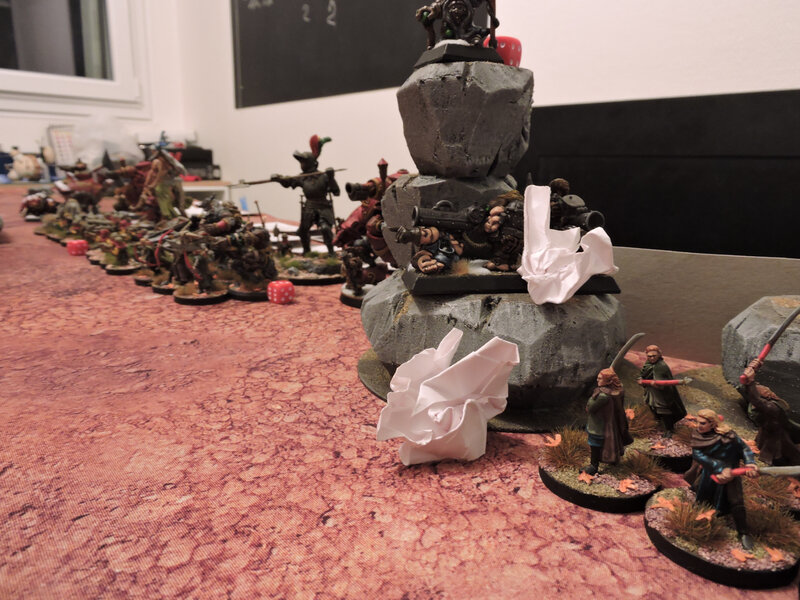 Les obus tombent mais les servants tiennent bon... The shells fall but the servants hold on ...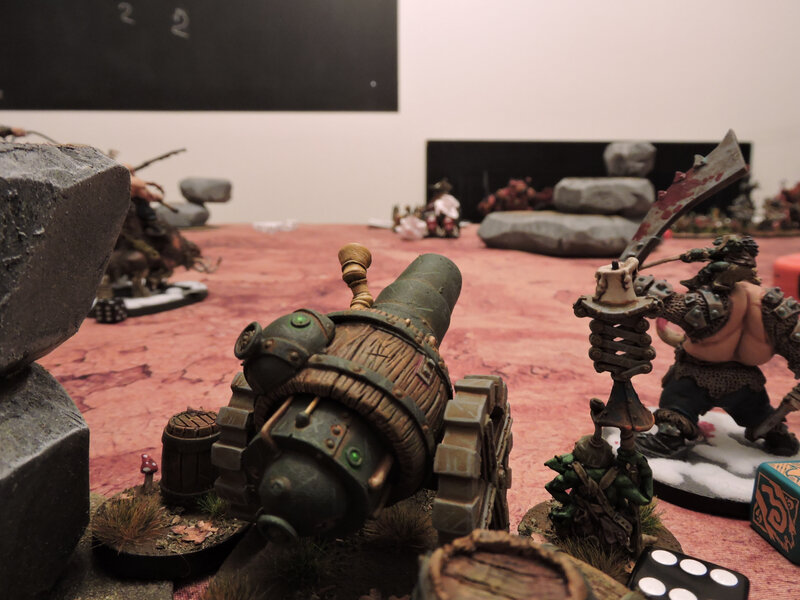 Le char aussi est pris à partie dans trop de degâts... The tank is also involved in too much damage ...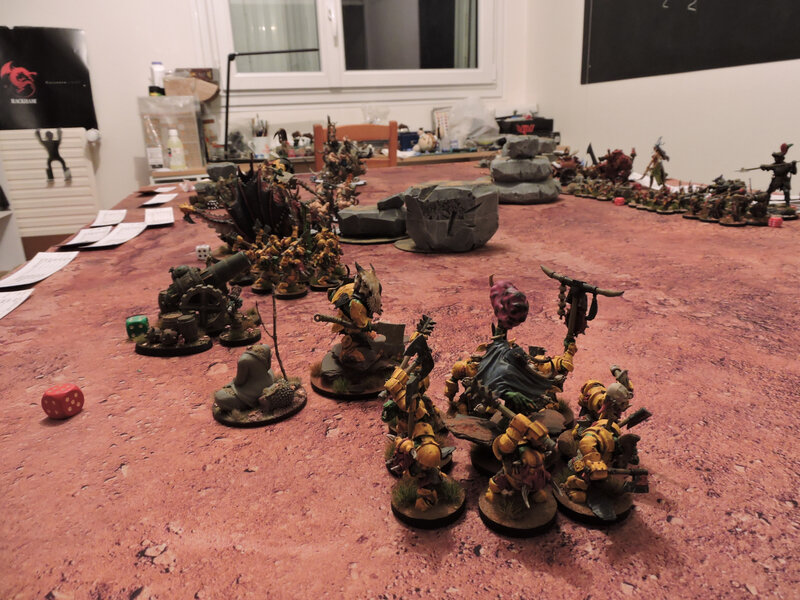 Les unités orcs se déplacent pour tenir leur objectif... Orcs units move to keep their goal ...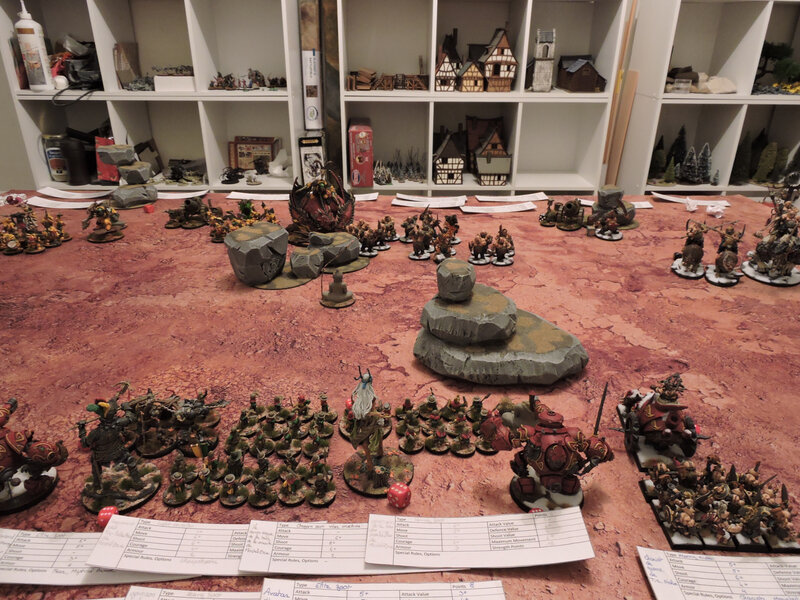 La coordination de l'alliance vacille, la ligne de bataille ne bouge pas... The coordination of the alliance falters, the line of battle does not move ...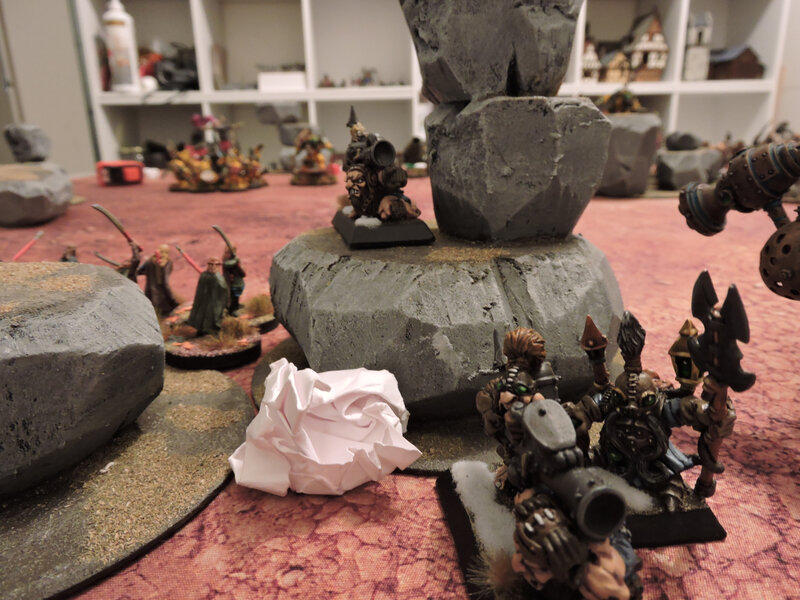 Les servants du canon nain fuient, décimés par les salves adverses... The servants of the dwarf gun flee, decimated by the bursts of opponents...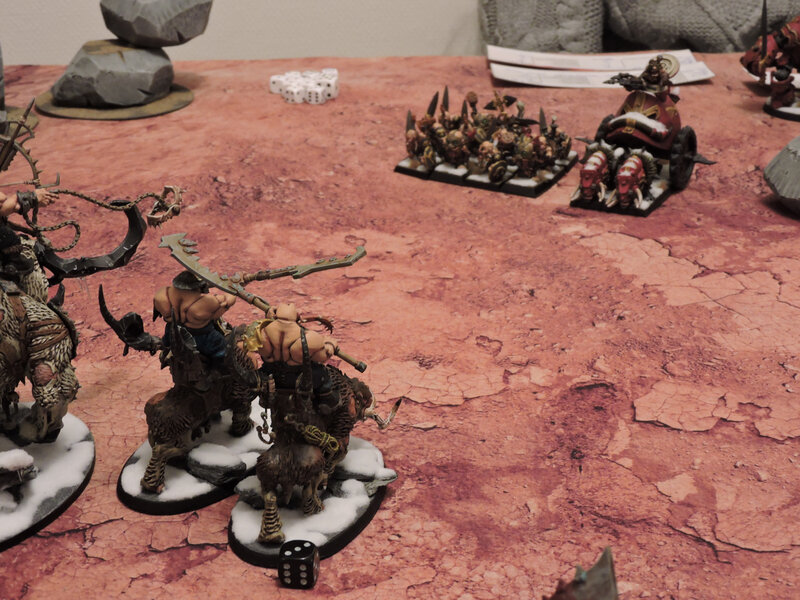 La cavalerie ogre se reforme pour une meilleure frappe... The ogre cavalry is reforming for a better strike ...
Le flanc droit entier de la horde se déplace sans voir les loups qui le menacent... The entire right flank of the horde is moving without seeing the wolves threatening him...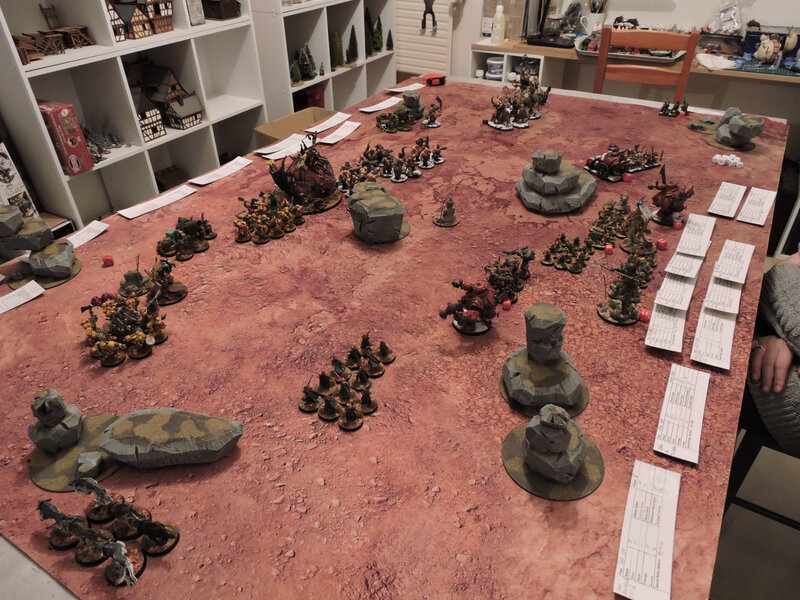 Enfin l'alliance déplace ses troupes, les elfes du clan de la lune s'élance pour attirer les tirs du canon et couvrir les loups géants... Finally the alliance moves its troops, the elves of the moon clan rush to attract the gun and cover the giant wolves ...
Un grand chef orc s'interpose... A great orc chief interposes ...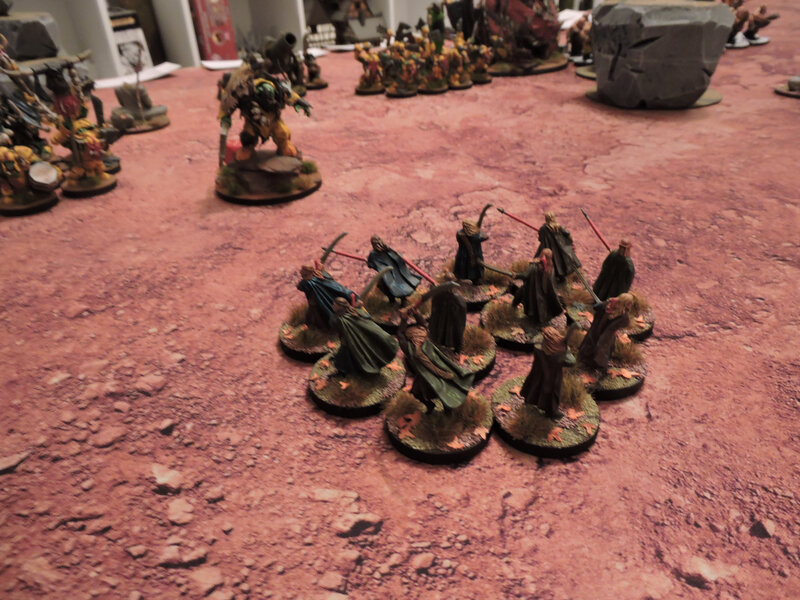 Après un courageux assaut, les elfes se replient... After a brave assault, the elves fall back ...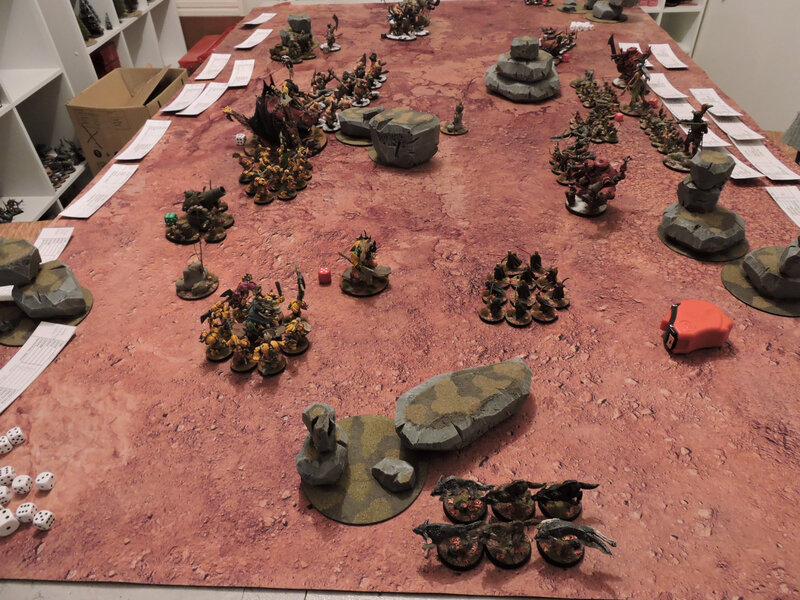 Les loups tentent de suivre la piste en vain... The wolves try to follow the track in vain ...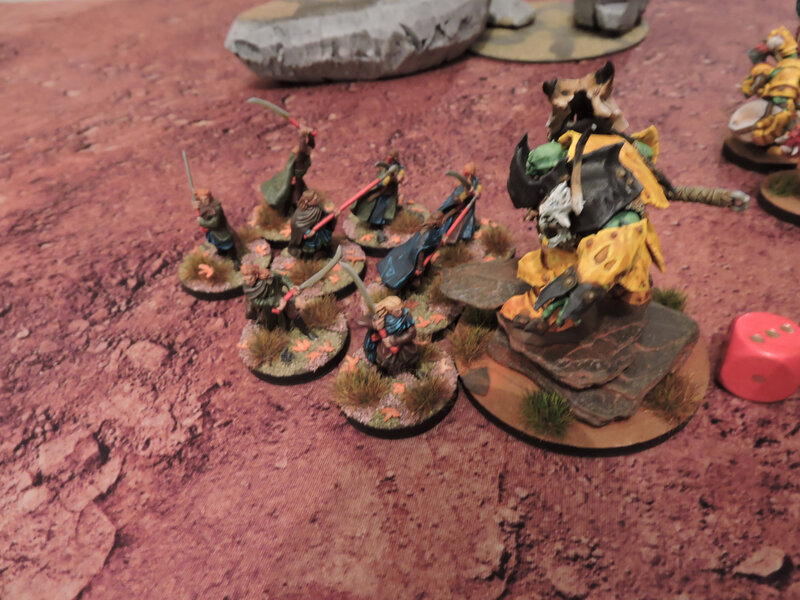 Le grand chef orc charge à son tour, l'impact est rude... The grand chief orc charges in turn, the impact is tough ...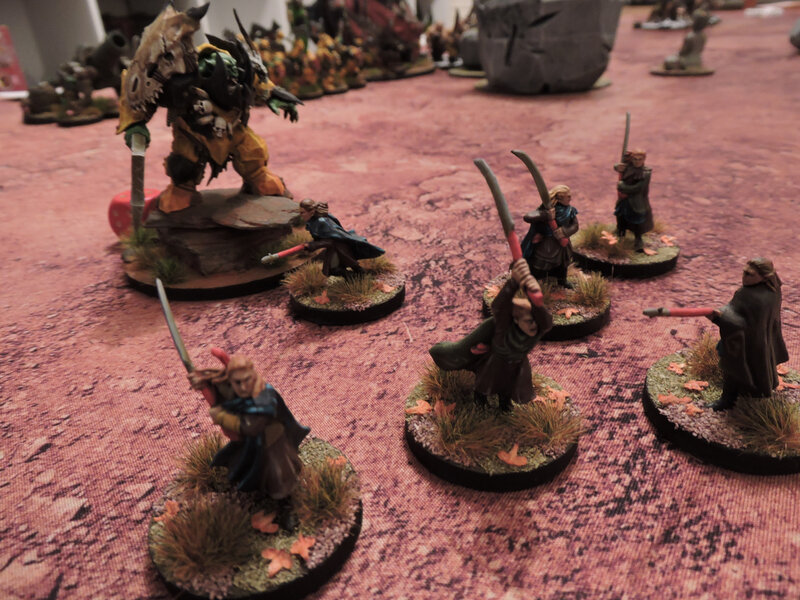 Les elfes fuient non sans avoir grandement blessé leur adversaire... The elves flee not without having greatly hurt their opponent ...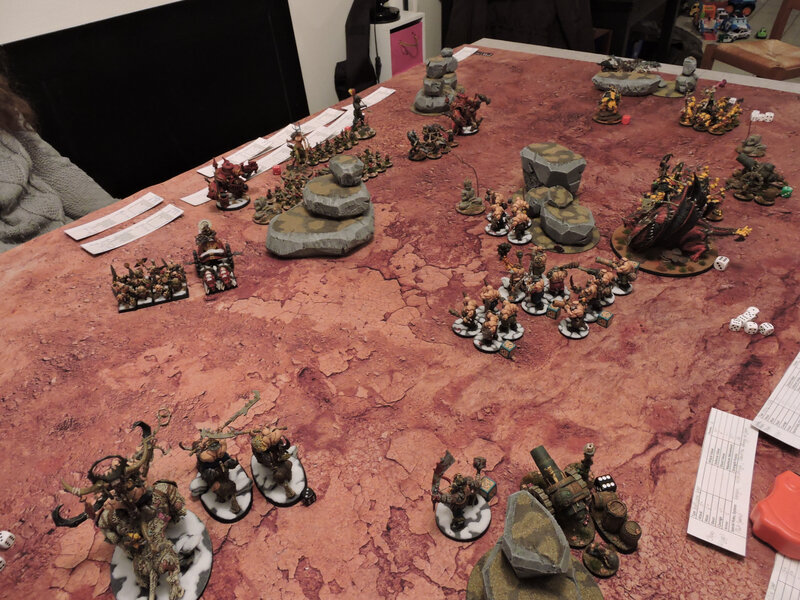 Le centre de la horde rentre dans la bataille... The center of the horde enters the battle ...
Les deux armées se font face, c'est a qui tiendra le centre que la victoire sourira... The two armies face each other, it is to whom will hold the center that the victory will smile ...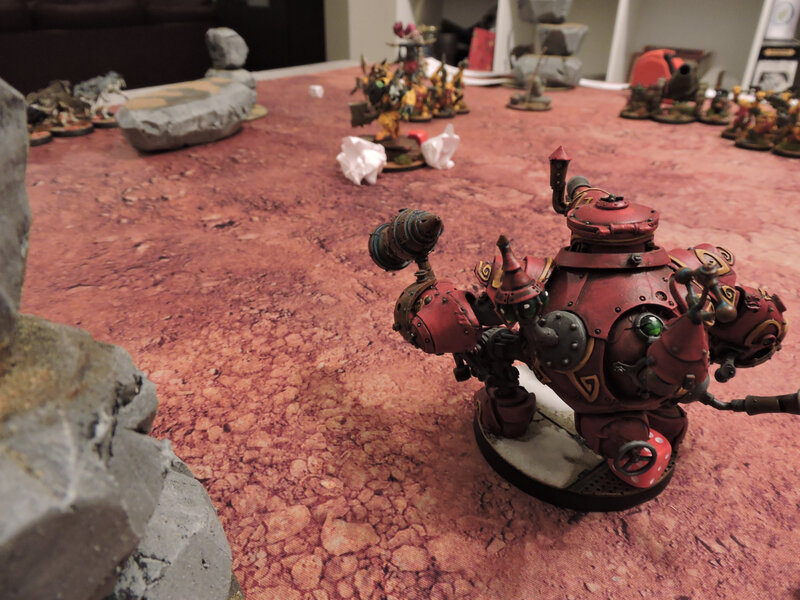 Le golem ajuste un tir précis sur le grand chef orc... The golem adjusts an accurate shot at the great orc leader...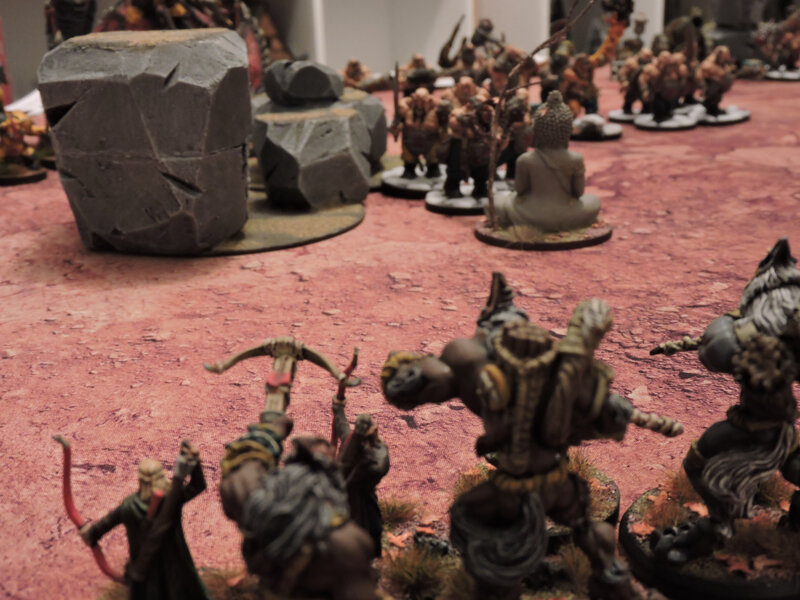 Les larmes d'Yllia, traits et flèches des wolfens et des elfes s'abattent sur une unité d'ogres... Yllia's tears, features and arrows of the wolfens and elves come down on a unit of ogres ...
Le régiment des tires-lichettes, les archers d'élites de Bourg-gigot, s'en prend à son tour à la même unité... The regiment of shoot-lichettes, elite archers of Bourg-gigot, in turn attacks the same unit ...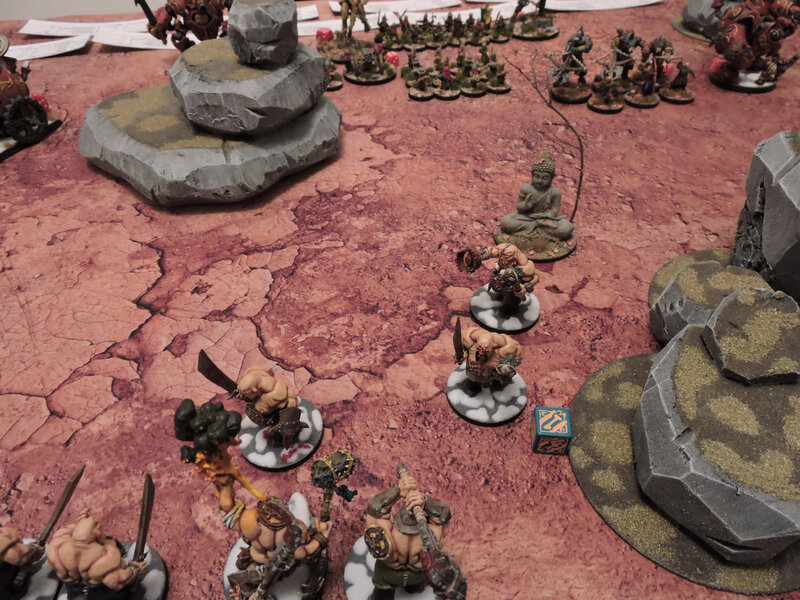 Qui est détruite... That is destroyed ...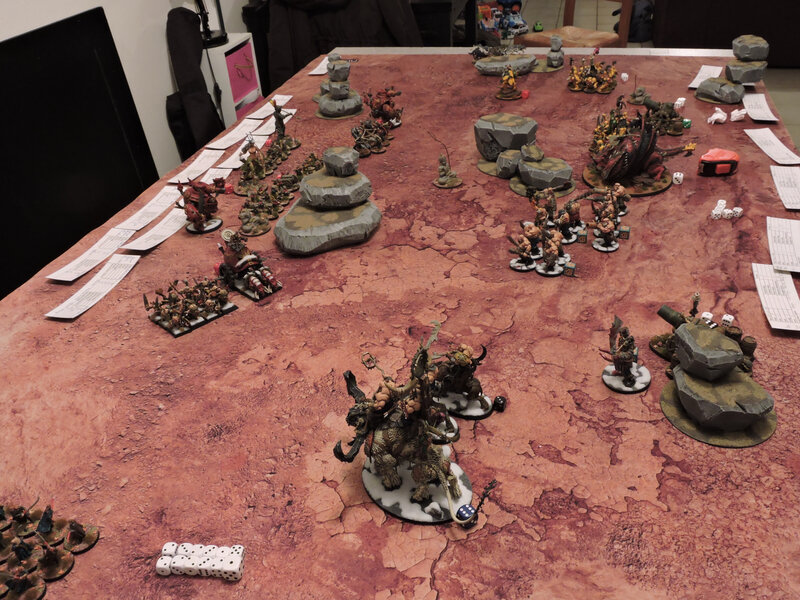 Les nains se placent en position défensive, prêt à tirer sur la cavalerie ogre... The dwarves are placed in a defensive position, ready to fire on the ogre cavalry ...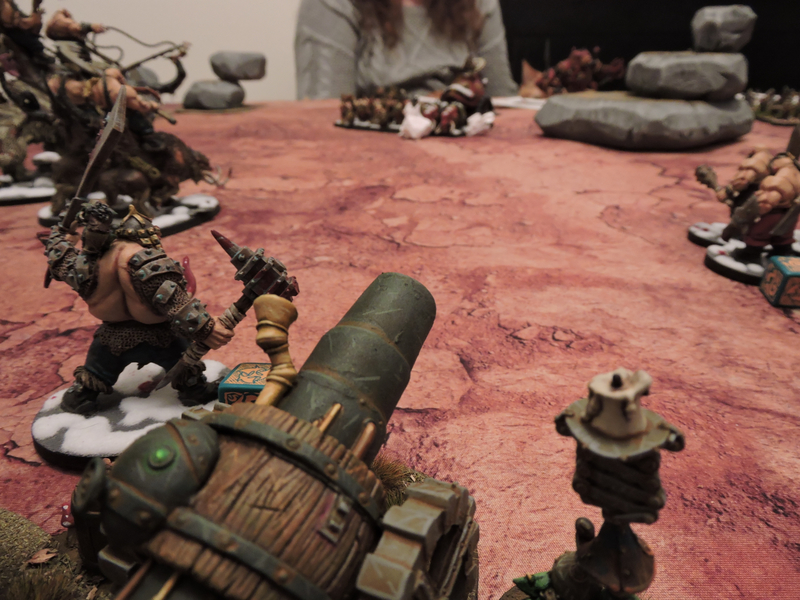 Le canon gobelin continue de pilonner le char nain, sans grand résultat... The goblin gun continues to pound the dwarf tank, without much success ...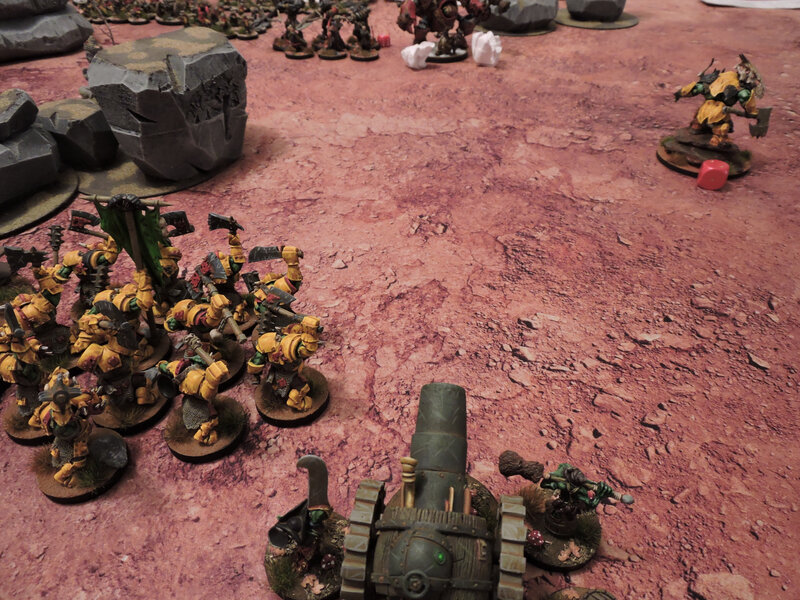 L'autre canon répond au golem... The other gun responds to the golem ...
Le général de la horde s'avance... The general of the horde advances ...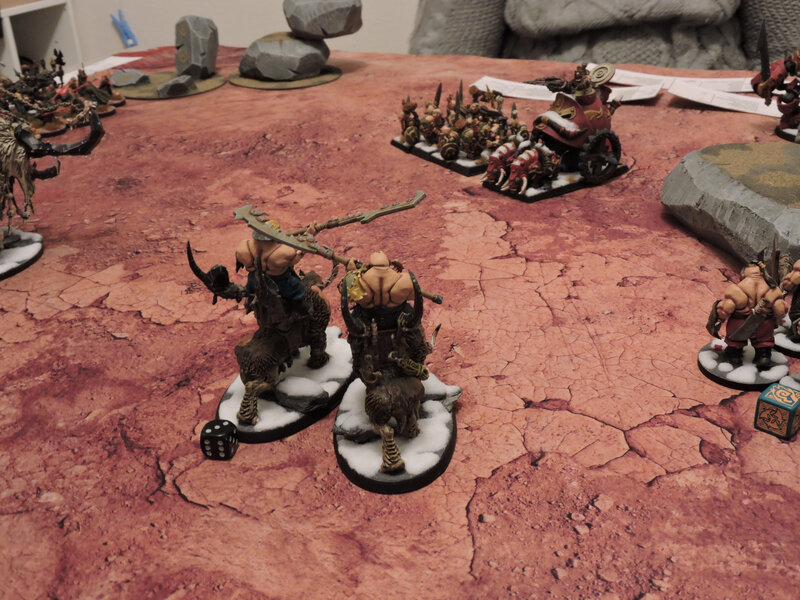 La cavalerie se rapproche du centre pour défendre l'infanterie ogre qui tentent une charge frontale... The cavalry is getting closer to the center to defend the ogre infantry who are attempting a frontal charge ...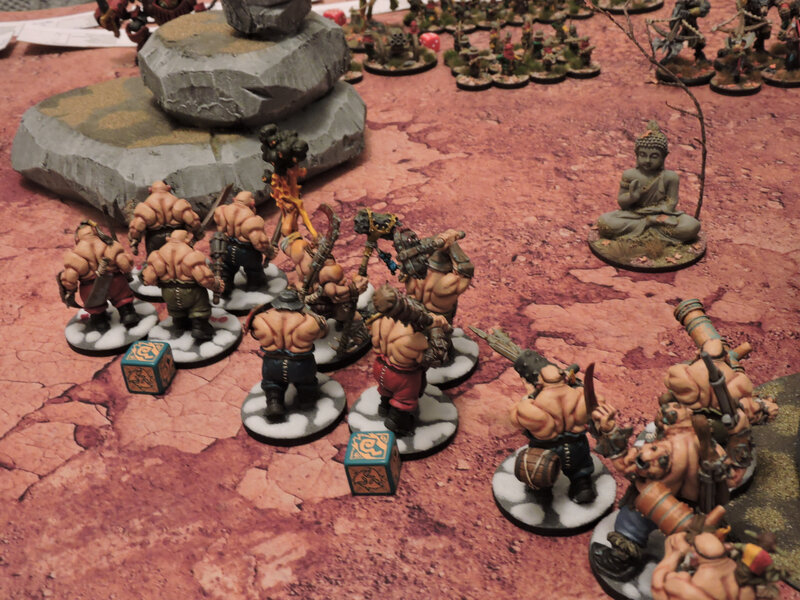 Le centre du champ de bataille semble à portée de la horde... The center of the battlefield seems within reach of the horde ...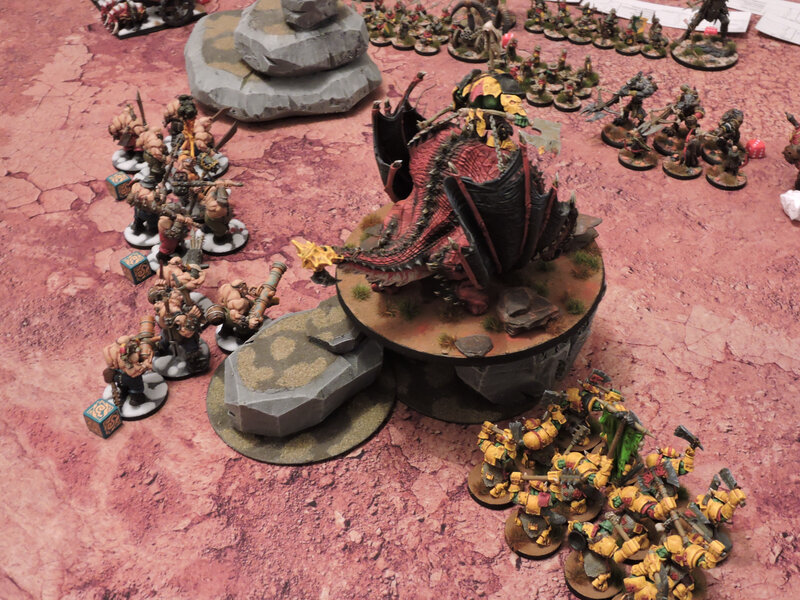 Une grande charge sera décisive! A big charge will be decisive!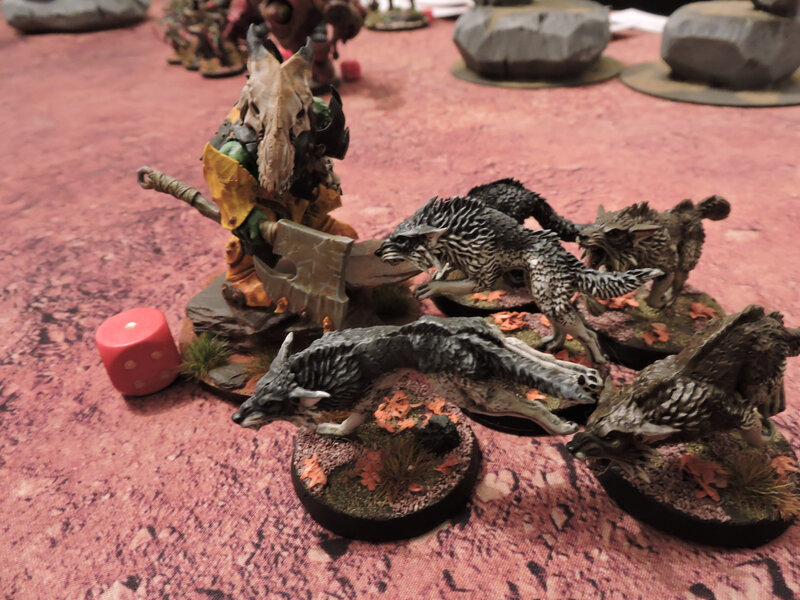 Mais par surprise, les loups se jettent sur le chef orcs, le réduisant en miettes... But by surprise, the wolves throw themselves on the chief orcs, reducing it to crumbs ...
Emporté par la furie du dragon, le général charge le golem et le repousse... Carried away by the fury of his mount, the general charges the golem and repels it ...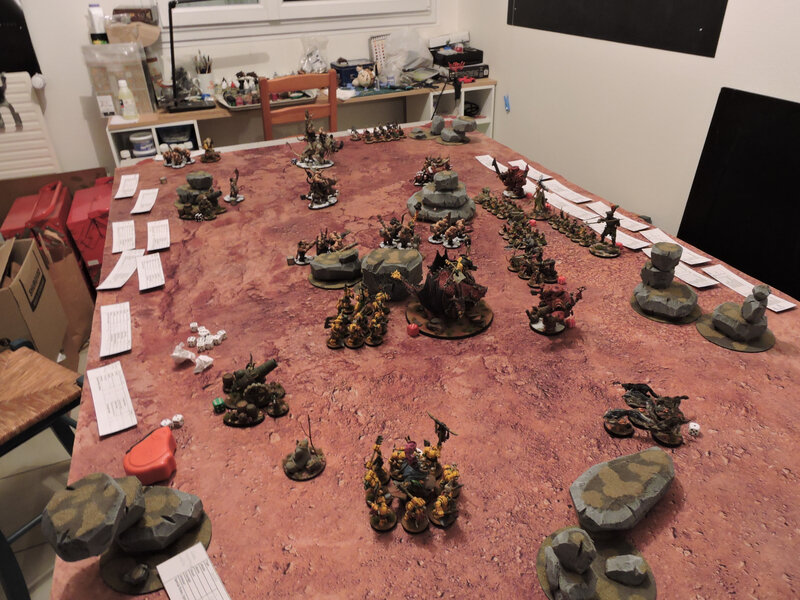 Il semblerait que l'impact soit inévitable entre les deux armées... It seems that the impact is inevitable between the two armies ...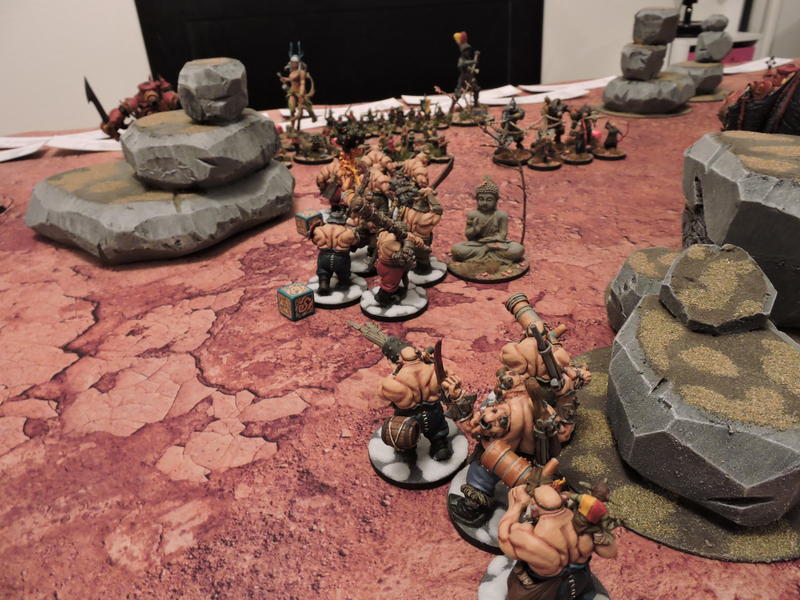 Les ogres du centre se ruent sur l'ennemi, les craches plombs se mettent en position... The ogres of the center rush on the enemy, the spits sink in position ...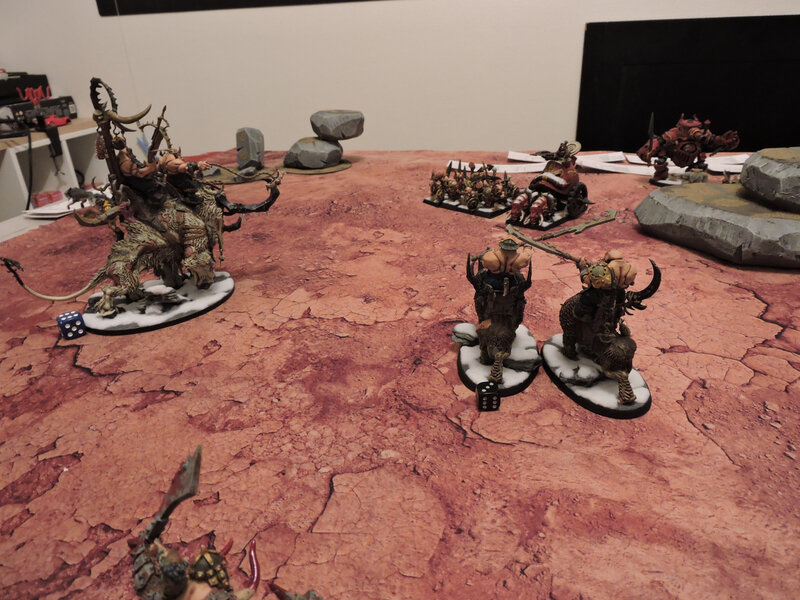 Les cavaleries se font face... The riders face each other ....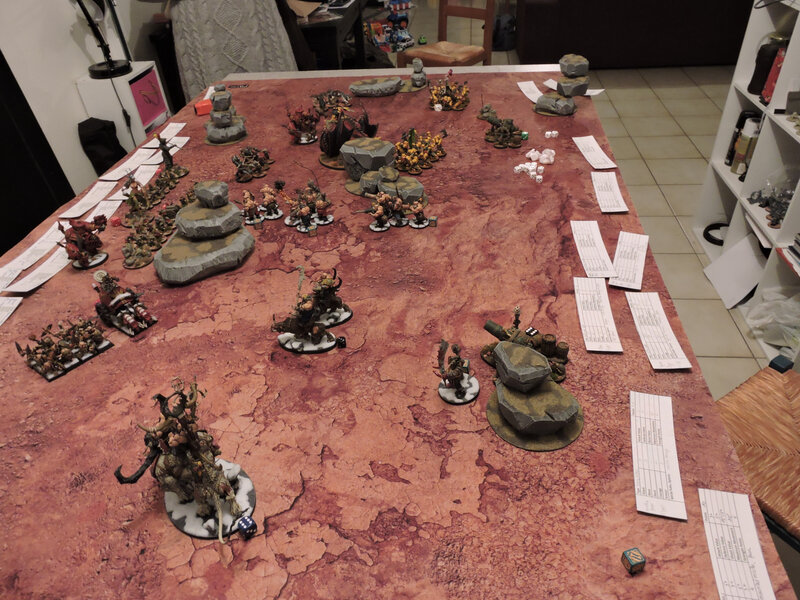 Le shaman orcs tente un power bolt sur les loups, sans réussir son invocation... The orcs shaman tries a power bolt on the wolves, without succeeding his invocation ...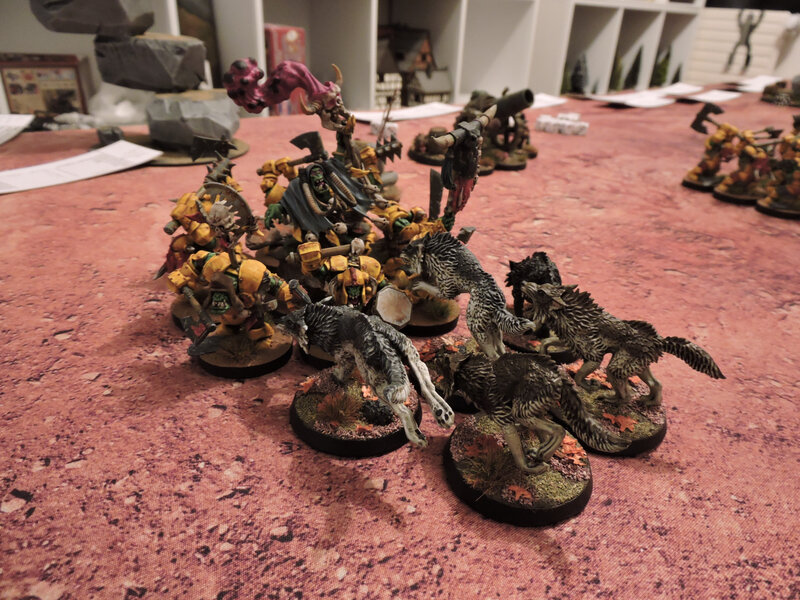 Les loups de jettent sur les orcs pour un résultat plus que mitigé... The wolves throw on the orcs for a more than mitigated result ...
Ils se replient... They fall back ...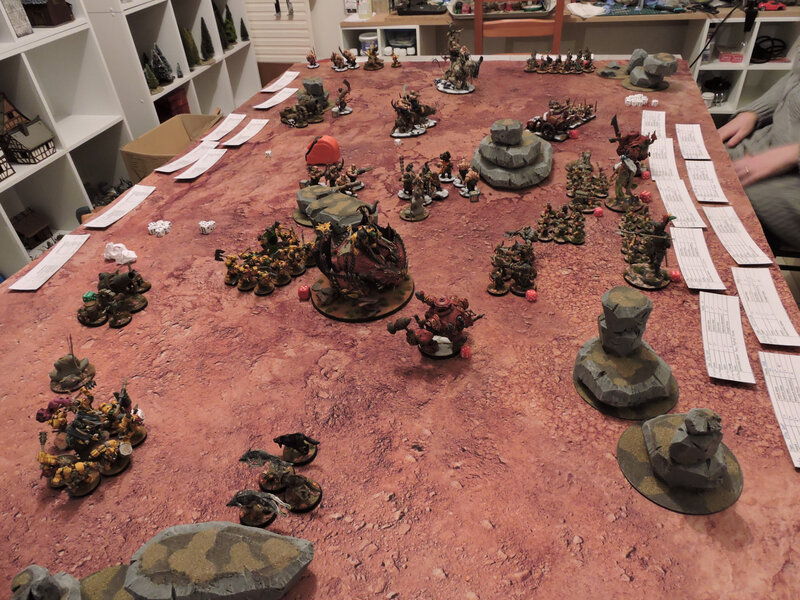 Tenir ou mourir! Hold or die!
Les archers criblent une autres unités ogre trop enfoncée dans leur ligne... The archers screen another ogre units too deep in their line ...
Le général de la horde continue son combat victorieux contre le golem... The Horde General continues his victorious fight against the golem ...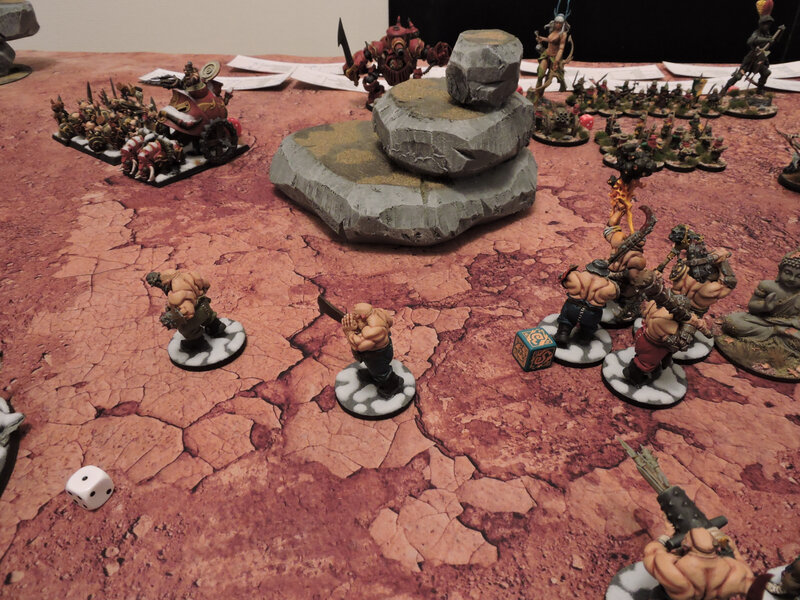 Il semble que le centre de la horde s'effondre petit à petit... It seems like the center of the horde is slowly falling apart ...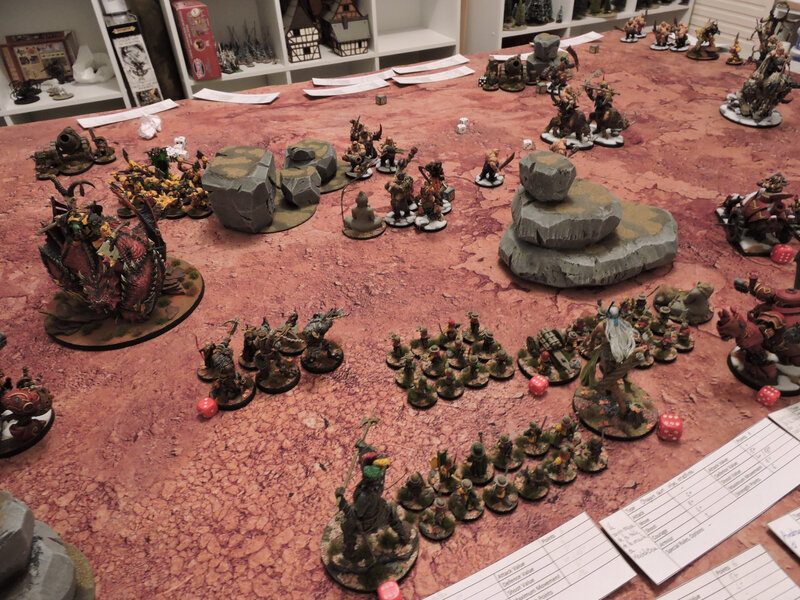 L'ost de l'alliance est redoutablement défensif... The ost of the alliance is frighteningly defensive ...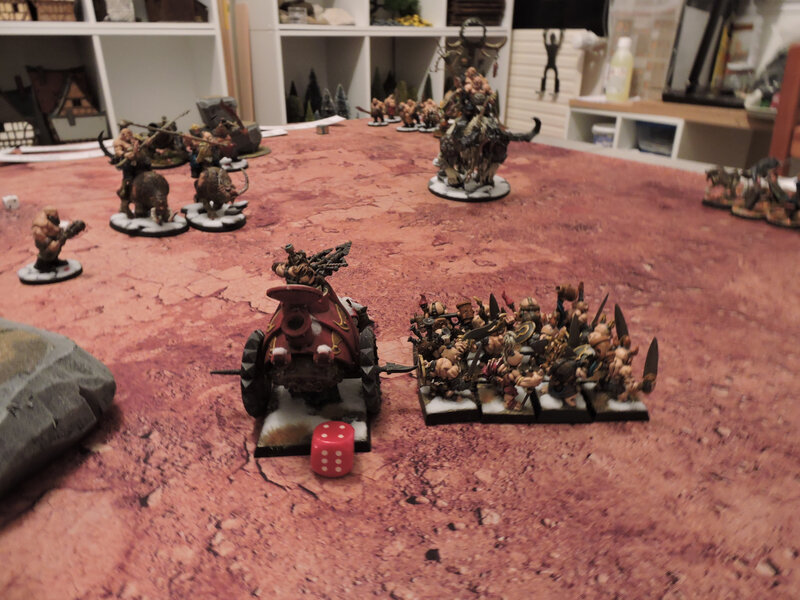 Les nains tiennent leurs positions faces à la cavalerie ogre... The dwarves hold their positions facing the ogre cavalry ...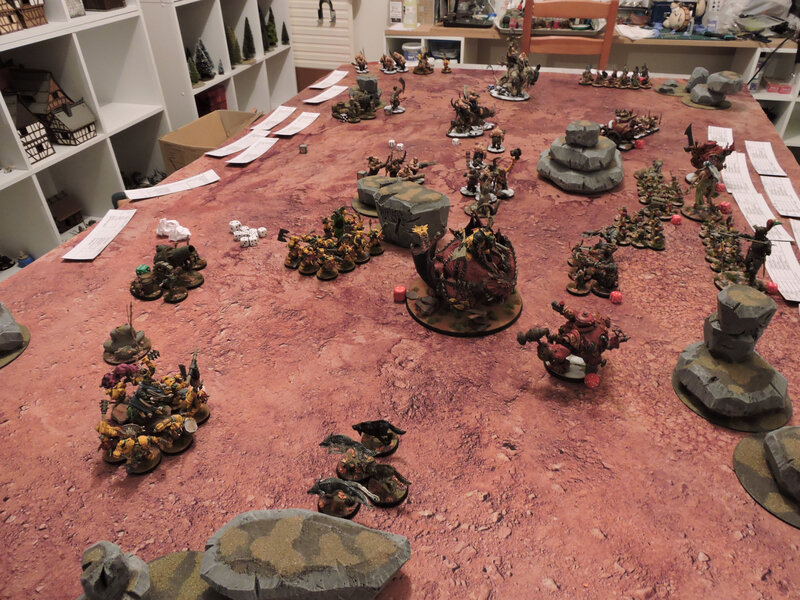 L'espoir renaît pour l'alliance... Hope is reborn for the alliance ...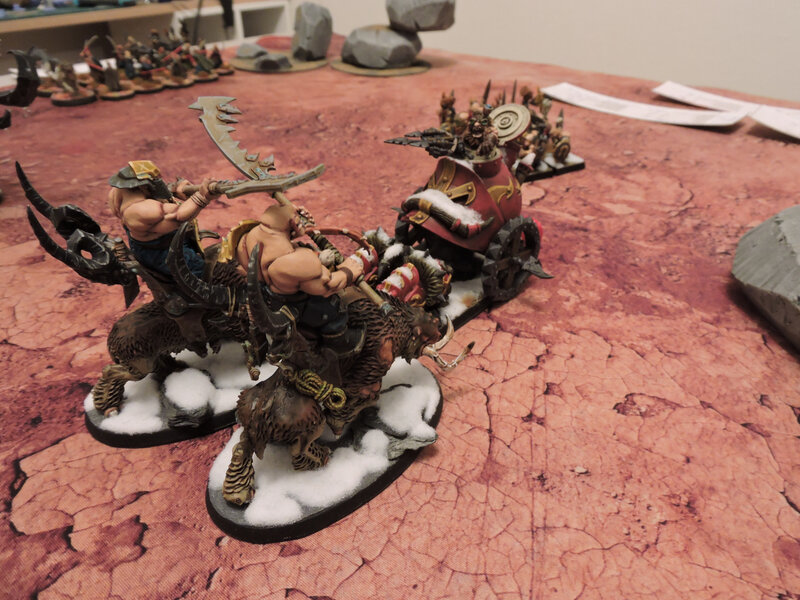 Le char nain charge la cavalerie lourde ogre, qui contrecharge! The dwarf tank charges the ogre heavy cavalry, which counteracts!
Les ogres fuient, ne réussissant pas à endommager le char nain... The ogres flee, failing to damage the dwarf tank ...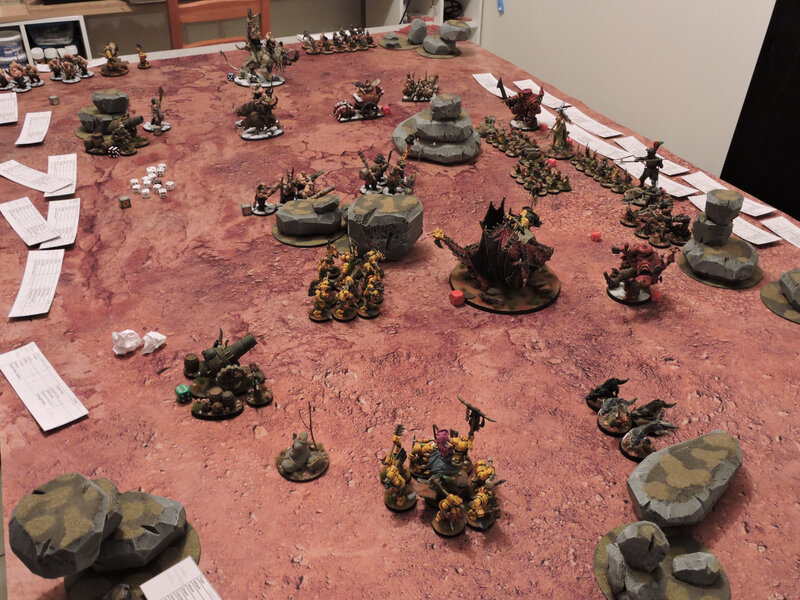 La horde semble être mal en point, sans compter ses canons, toujours redoutables... The horde seems to be in bad shape, not to mention its formidable cannons...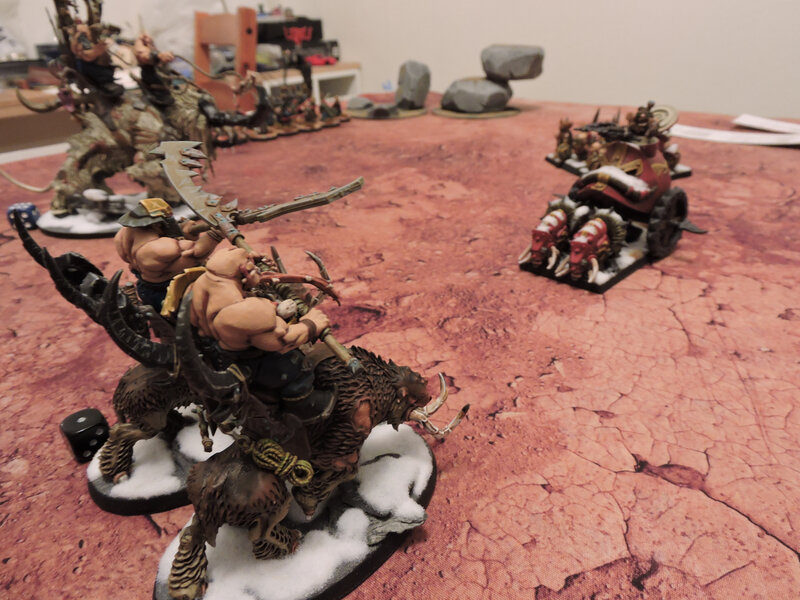 La cavalerie se rallie... The cavalry rallies ...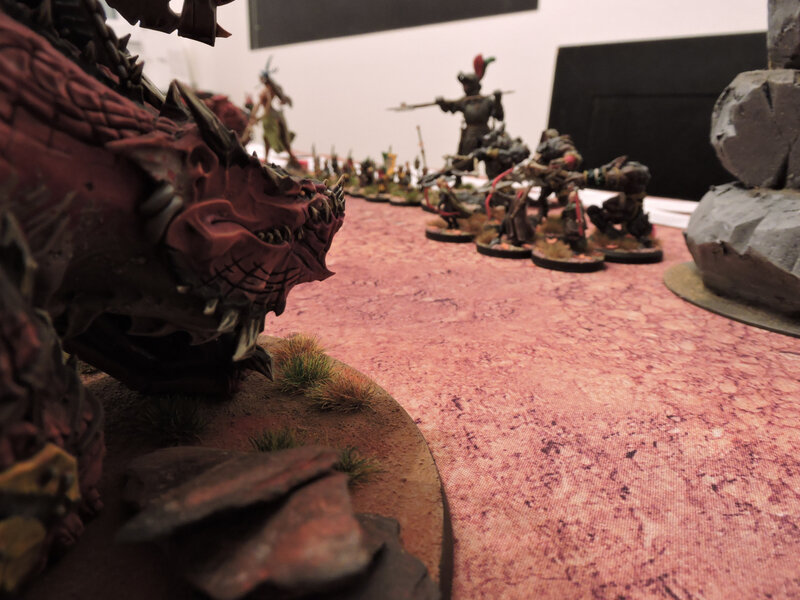 Le chef de la horde élimine son rival et songe a charger les archers... The leader of the horde eliminates his rival and dreams to charge the archers ...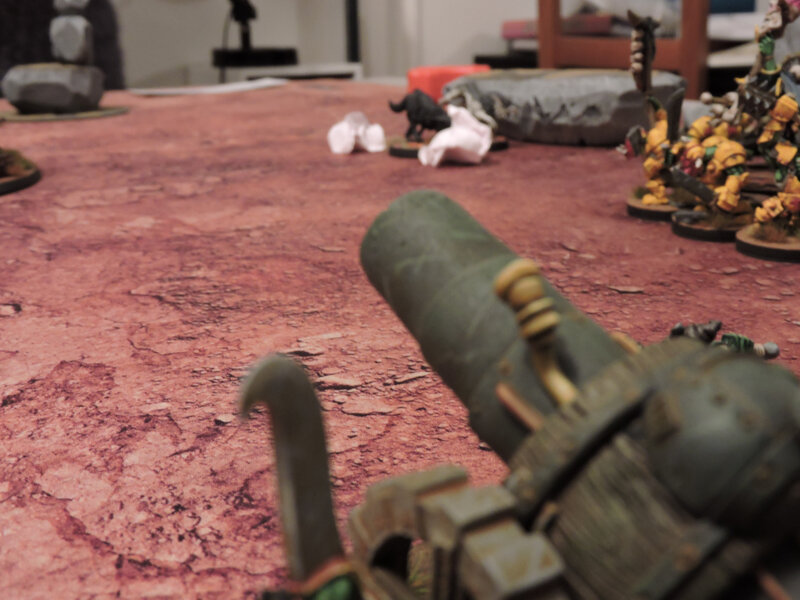 Les derniers loups sont victimes du canon gobelin... The last wolves are victims of the goblin gun ...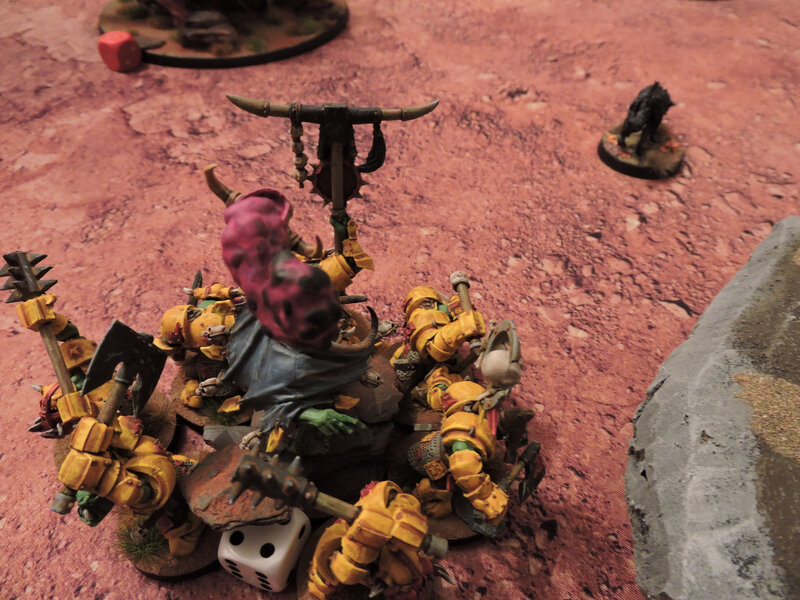 Et fuient sans demander leur reste... And flee without asking for their rest ...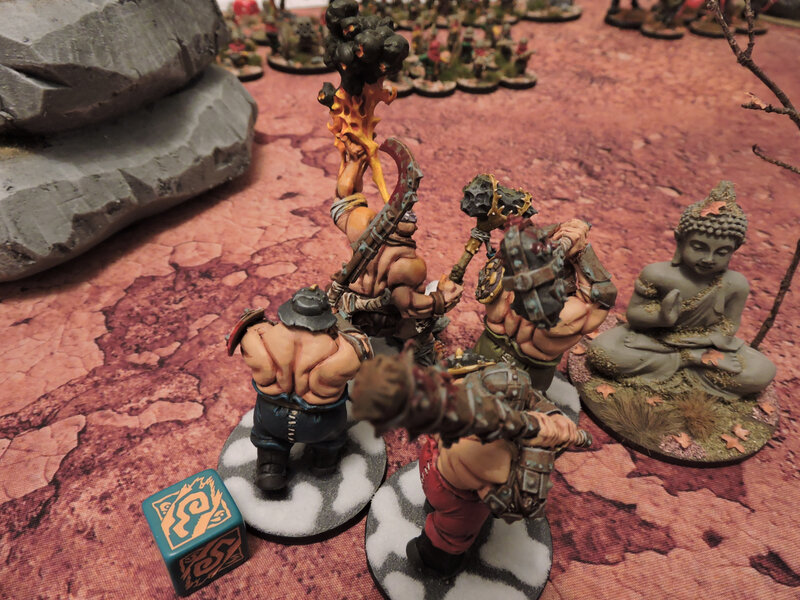 Au centre le mage ogre tente en vain d'invoquer une pluie de feu... In the center the ogre mage tries in vain to invoke a rain of fire ...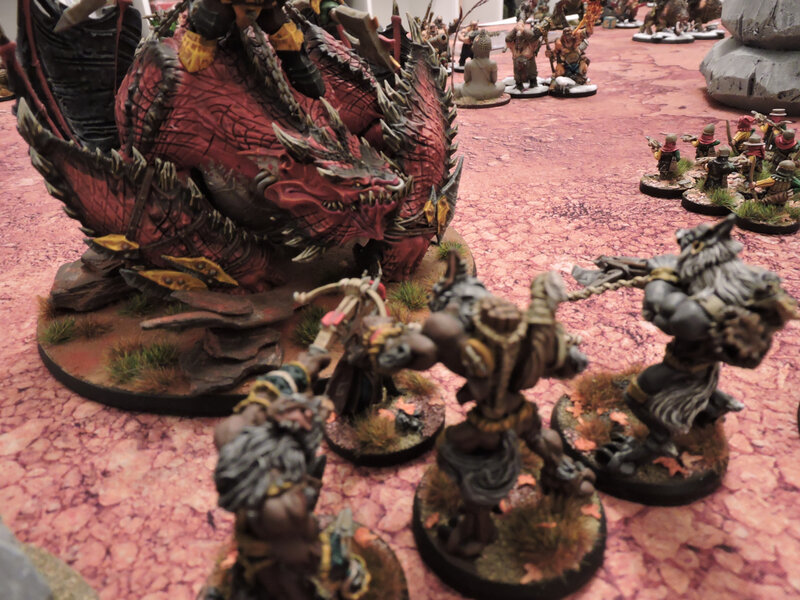 Le général de la horde charge les archers mais sa monture gravement blessée fuit le combat, l'emportant loin de ses troupes... The general of the horde charges the archers but his seriously wounded mount flees the fight, carrying away his troops ...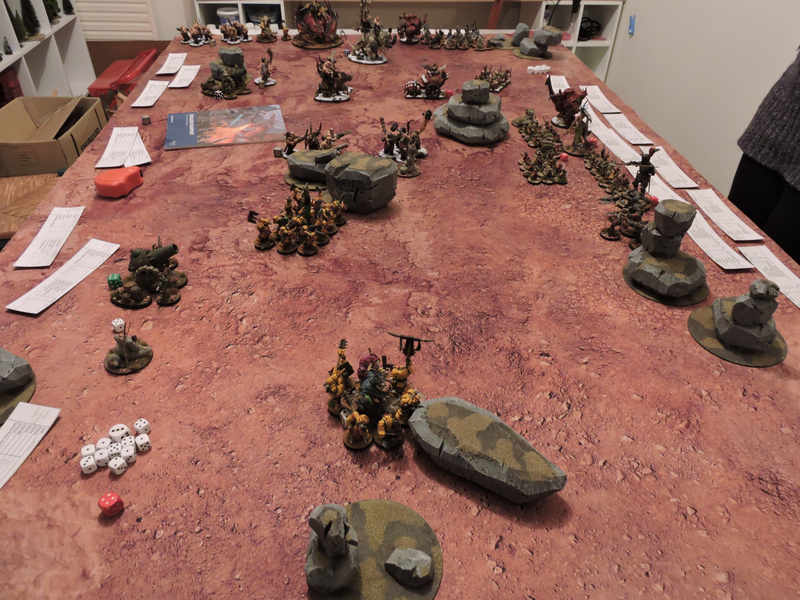 Tout semble perdu pour la horde... Everything seems lost for the horde ...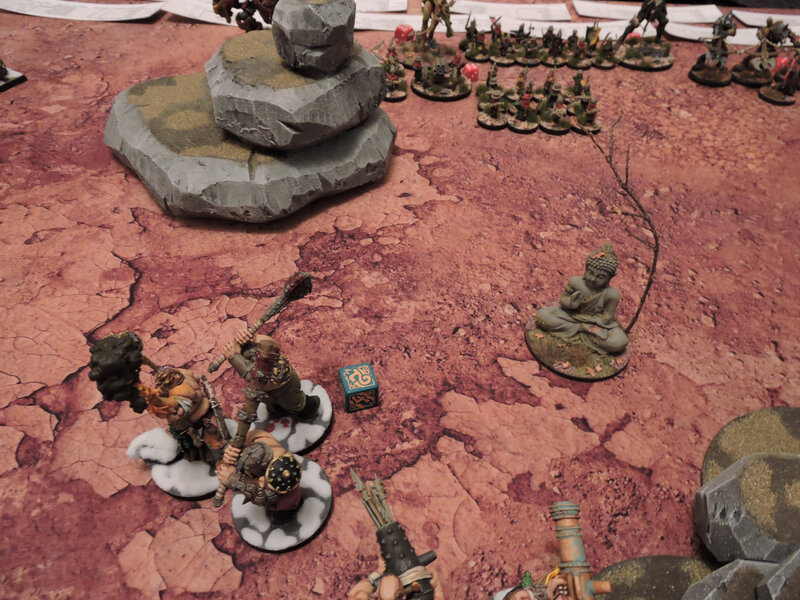 Le mage et ses garde du corps fuient... The mage and his bodyguards are fleeing ...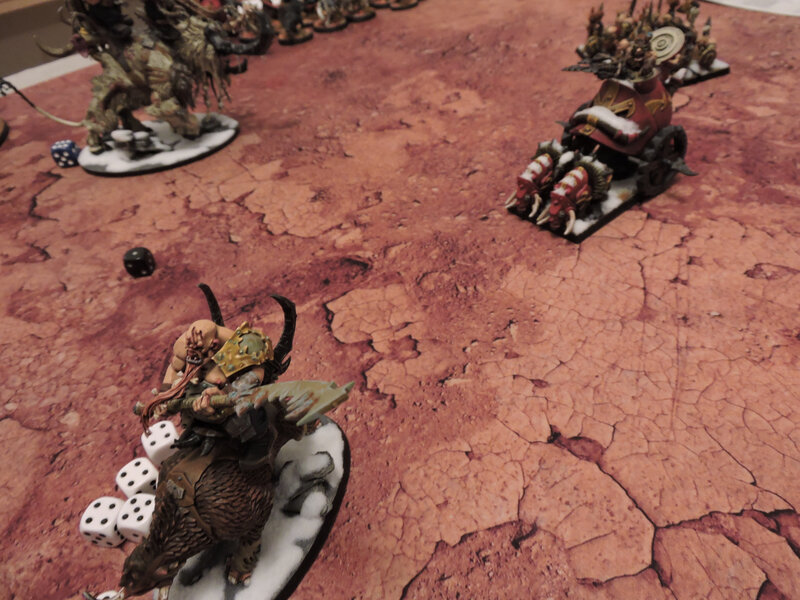 La cavalerie lourde aussi après une seconde charge contre le char nain... The heavy cavalry also after a second charge against the dwarf tank ...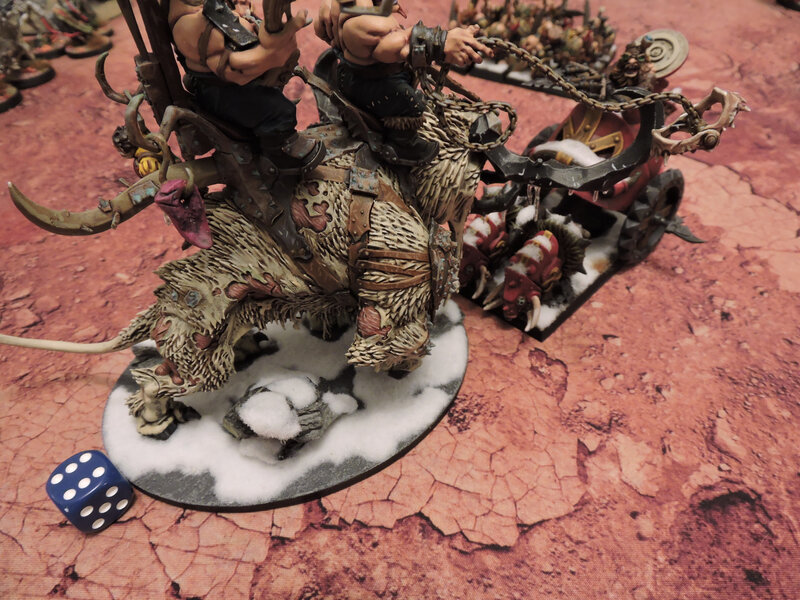 Le monstre broyeur de pierres piétine le char nain à son tour... The stone grinder monster tramples the dwarf tank in turn ...
Le met en fuite sans le détruire... Put him to flight without destroying him ...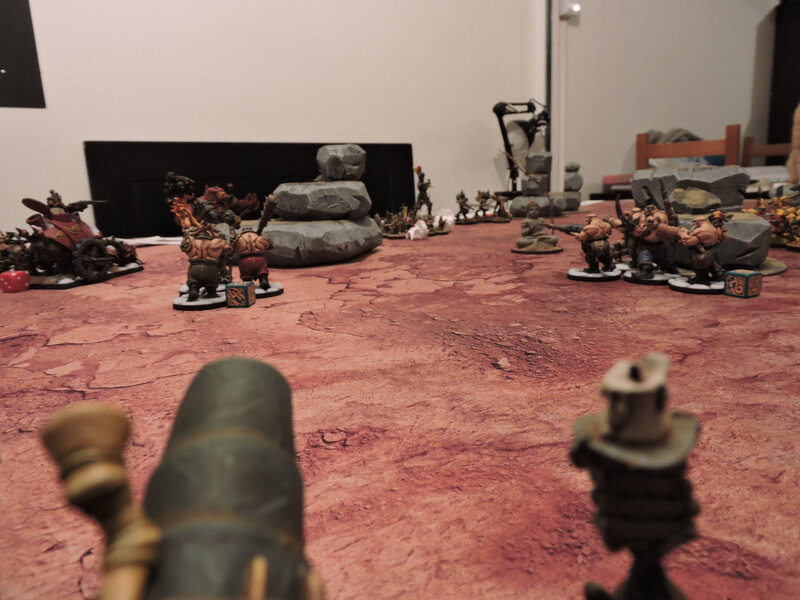 Le canon gobelin amorce un tir nourri sur les archers tant redoutés... The goblin cannon fires a heavy fire on the dreaded archers ...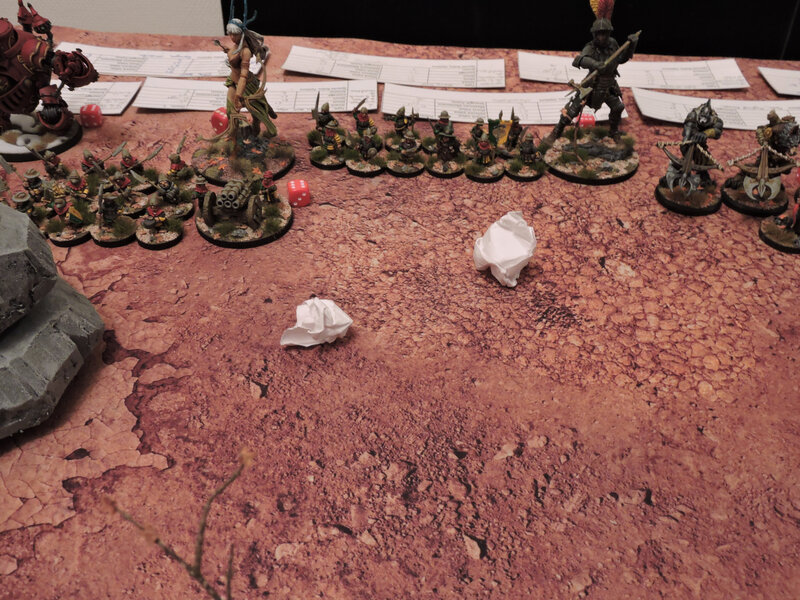 Pour ne laisser qu'un cratère béant là où se trouvé l'unité honnie... to leave only a gaping crater where the unworthy unit is ...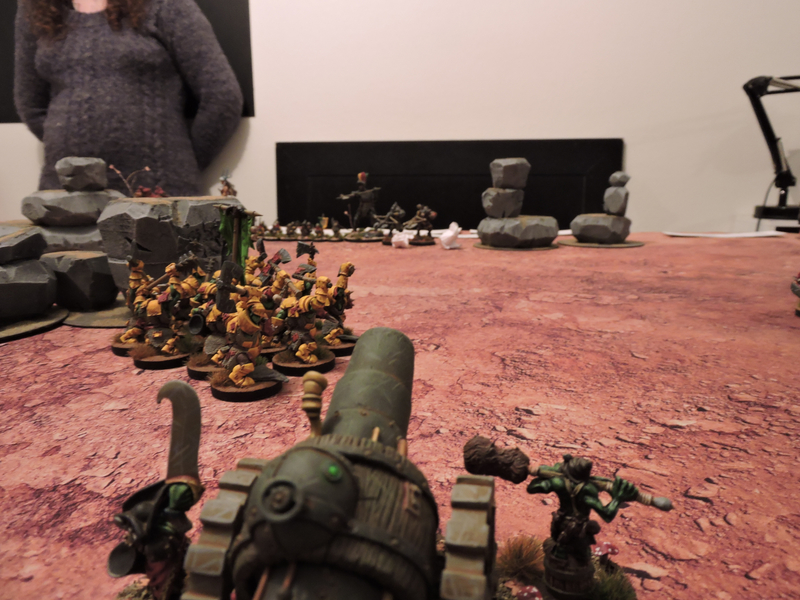 L'autre canon fait de même avec les arbalétriers restant... The other cannon does the same with the remaining rafters ...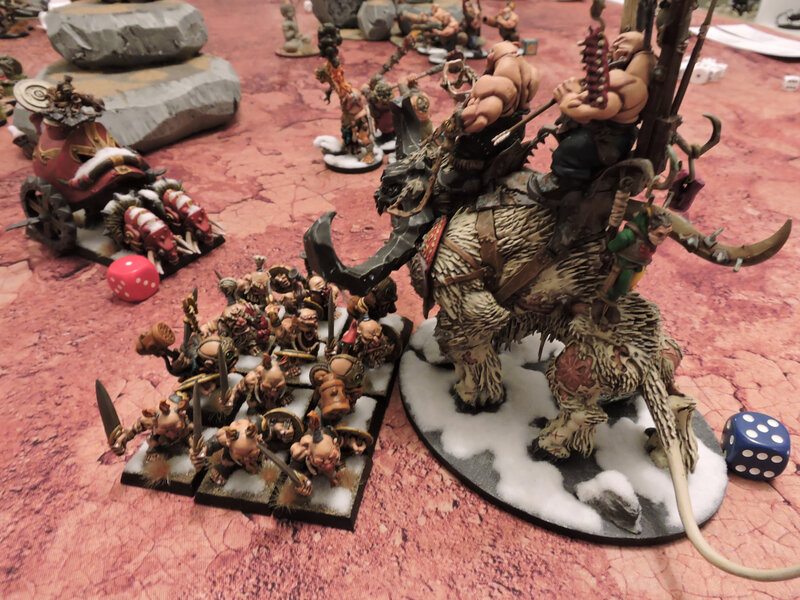 L'infanterie légère naine charge le mastodonte monté par les ogres... The dwarf light infantry charge the mastodon mounted by the ogres ...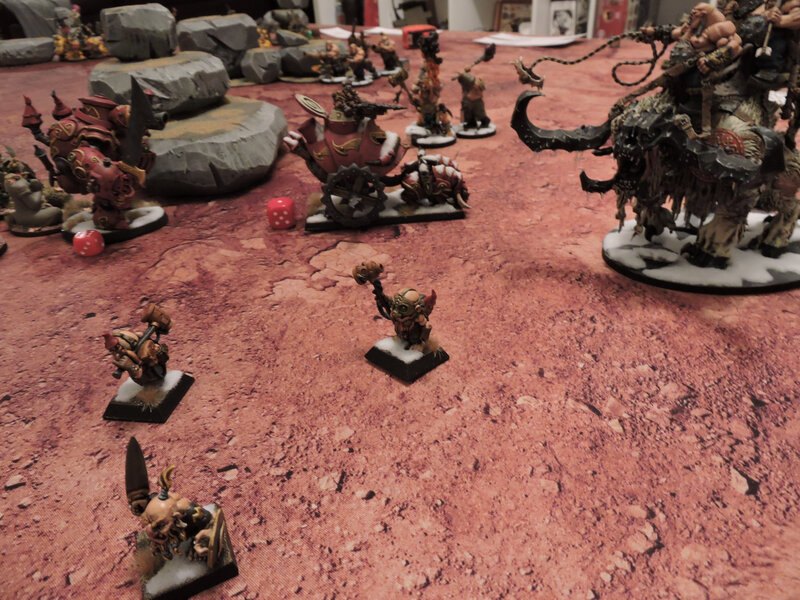 Mais après plusieurs charges et contrecharges, la bête a raison de leurs frêles armures... But after several charges and counter-charges, the beast is right because of their frail armor ...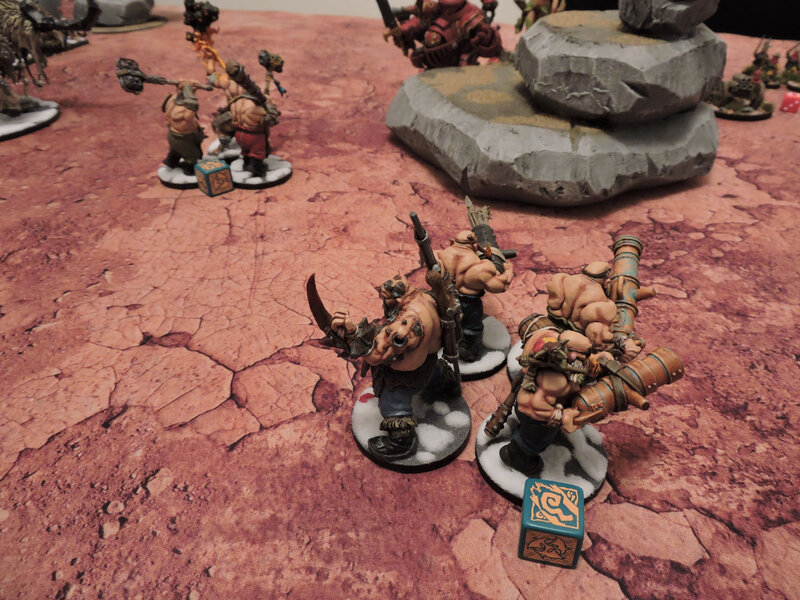 L'infanterie lourde ogre se reprend et se met à couvert, pendant que les canonniers s'approchent de leur cible... The ogre heavy infantry recovers and takes cover, while the gunners approach their target ...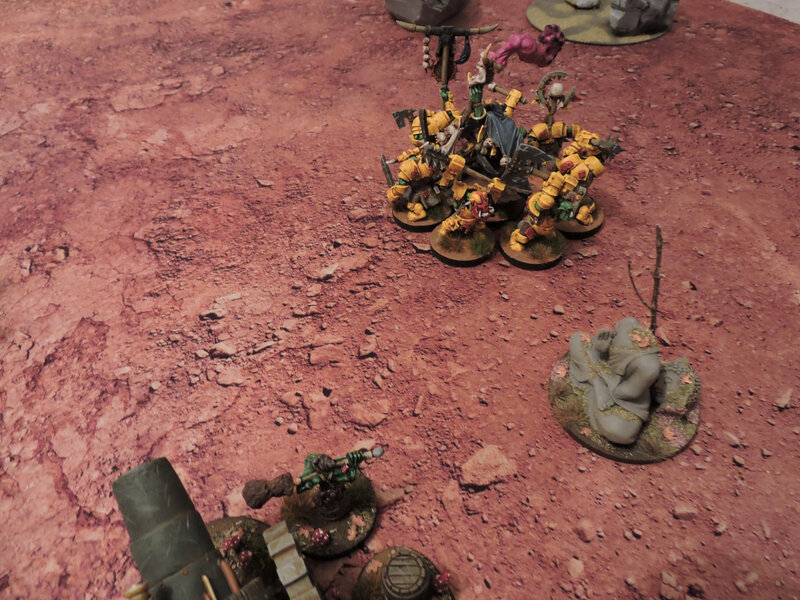 L'unité du shaman recule pour contrôler à nouveau l'objectif dans ses lignes... The shaman's unit moves back to control the lens in her lines again ...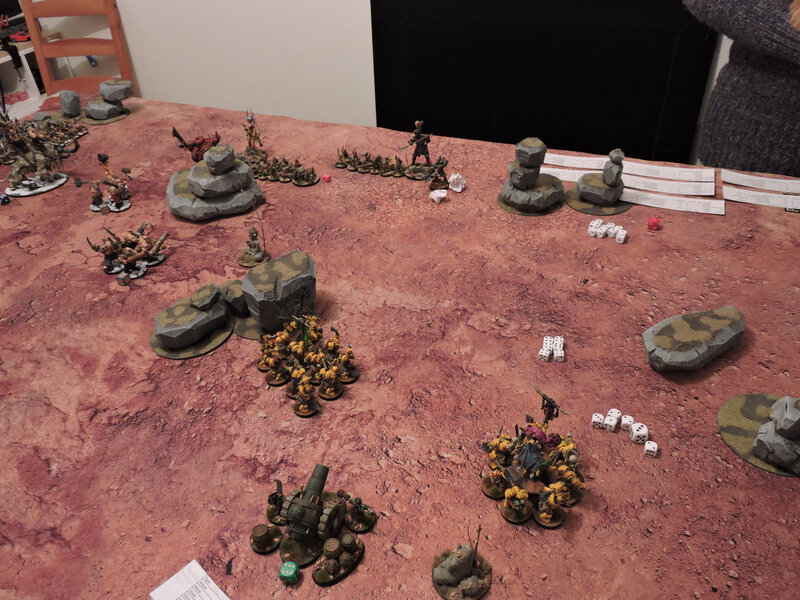 La horde affaiblit n'a pas dit son dernier mot... The horde weakens did not say his last word ...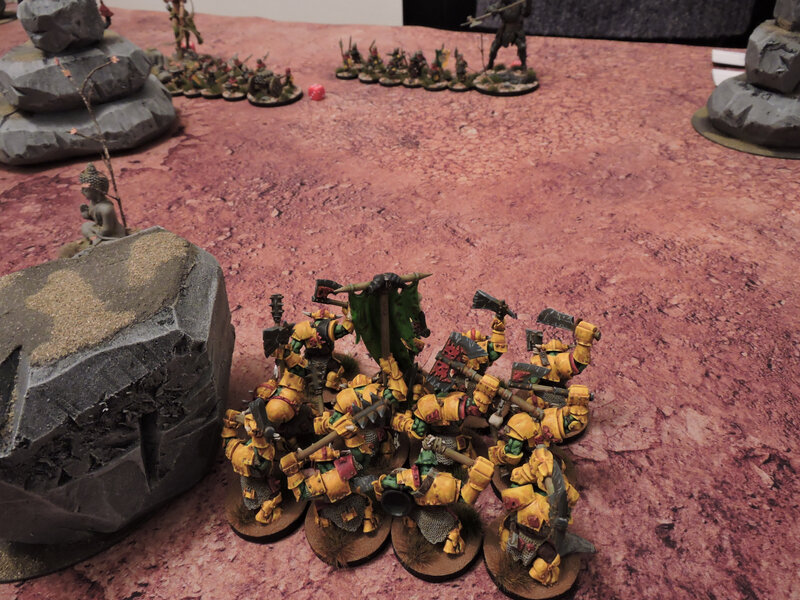 Les orcs approchent, décidés a écraser les hobbits sous leurs bottes... The orcs are approaching, determined to crush the hobbits under their boots ...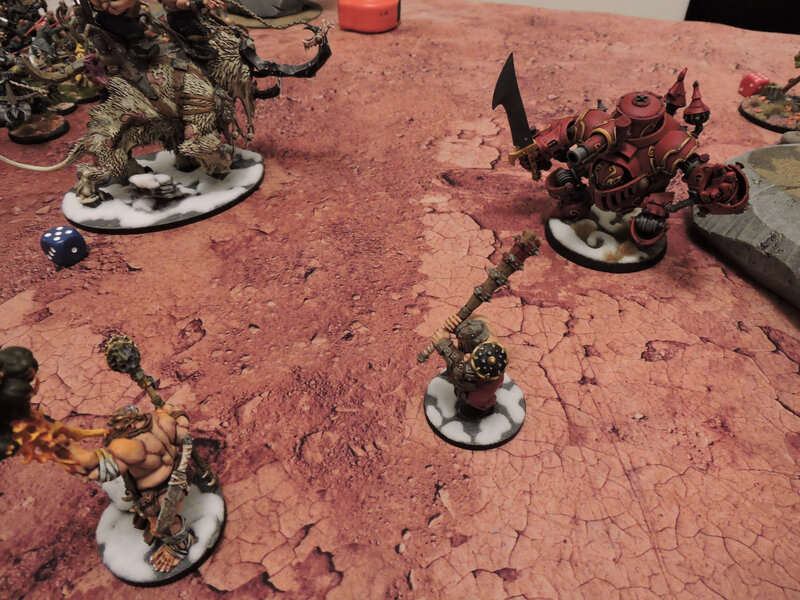 Le golem charge et détruit l'infanterie lourde non sans mal et sans dommage... The golem charges and destroys the heavy infantry not without harm and without damage ...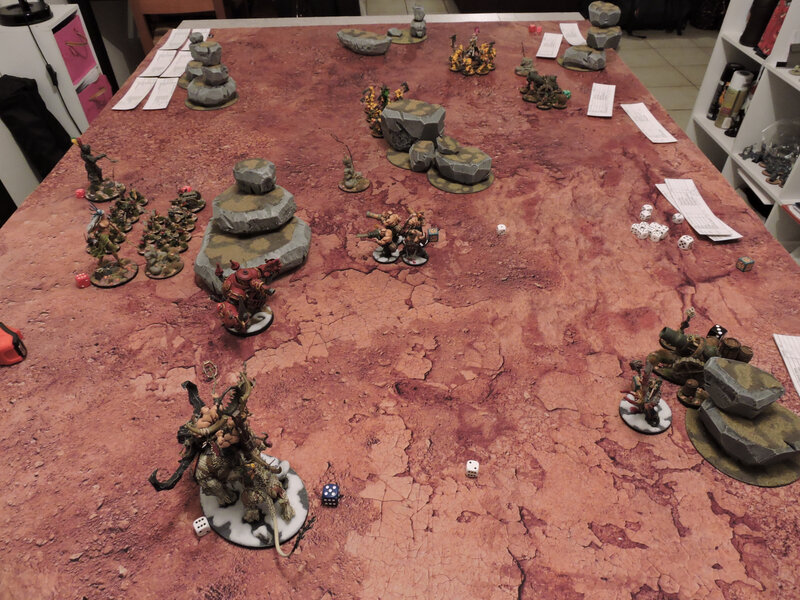 Les lourdes unités de la horde, soutenues par les canons gobelins, encerclent sur les survivants de l'alliance... The heavy units of the horde, supported by goblin guns, encircle the survivors of the alliance ...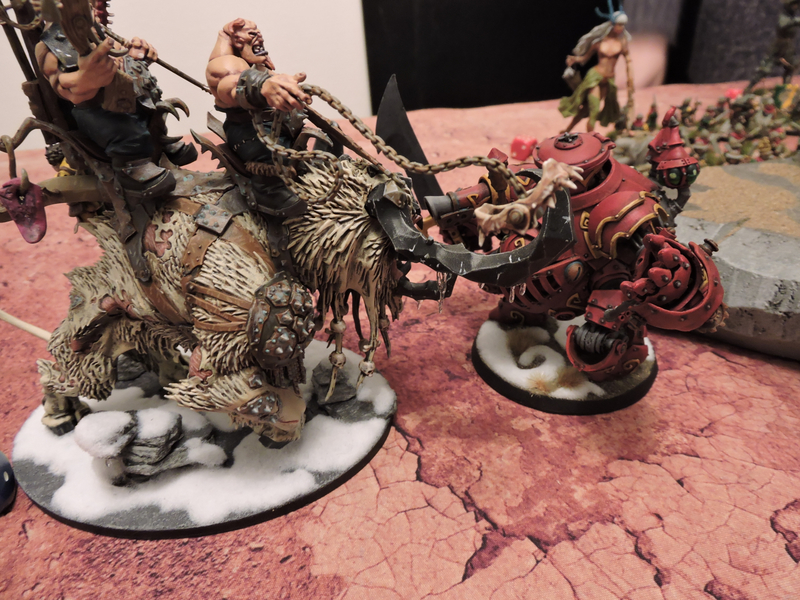 S'engage un long combat entre la chair et l'acier... Commit a long fight between flesh and steel ...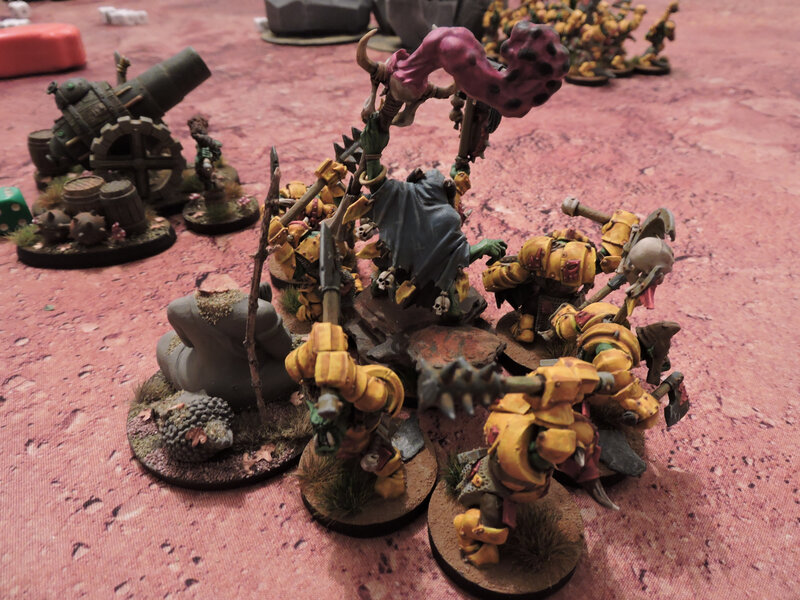 La horde tient à nouveau un objectif... The horde is once again an objective ...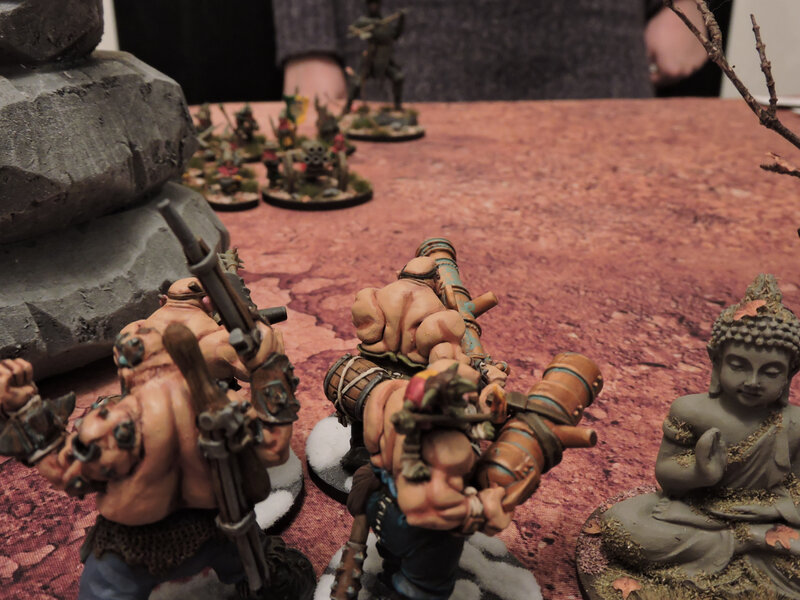 Les canonniers se placent en position de feu, visant soigneusement le canon-orgue, tenant un objectif de plus... The gunners are placed in a fire position, carefully aiming the gun-organ, holding a goal of more ...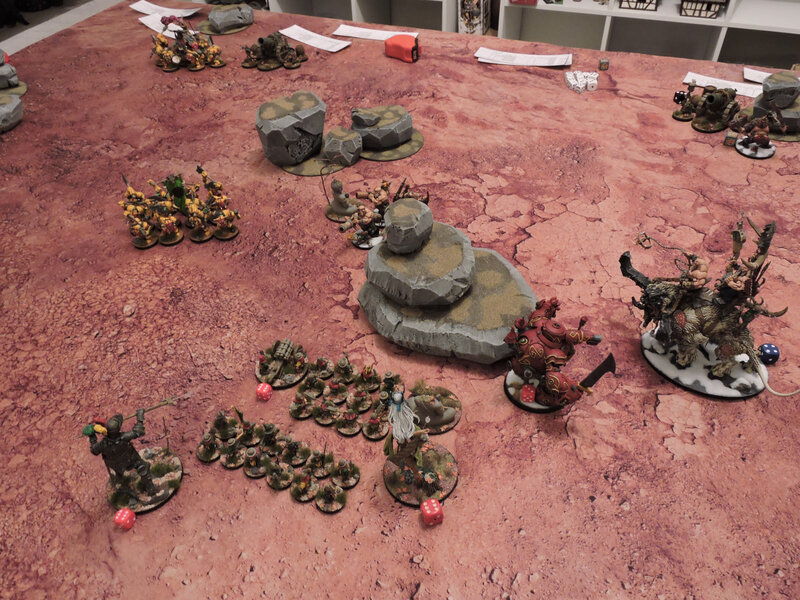 C'est le dernier assaut! This is the last assault!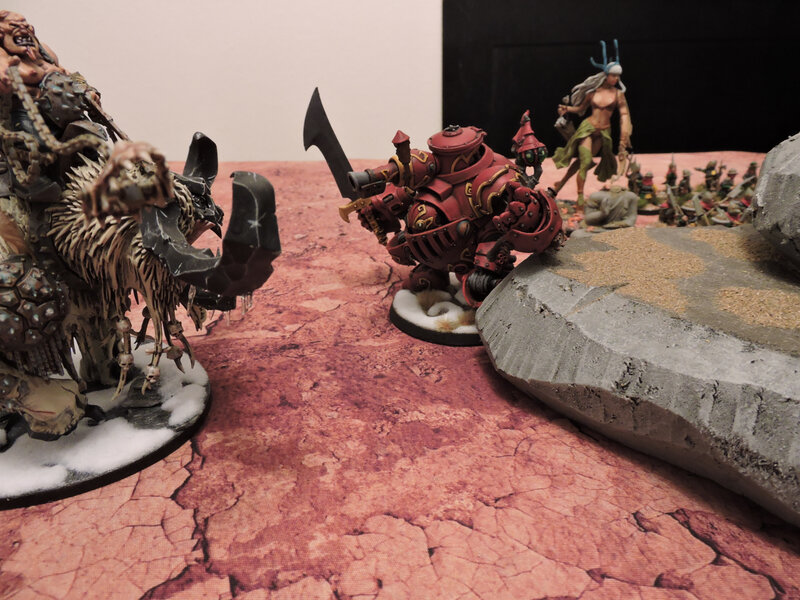 Le golem tient bon, ultime survivant de sa compagnie, l'honneur des nains est sauf... The golem holds firm, ultimate survivor of his company, the honor of the dwarves is safe...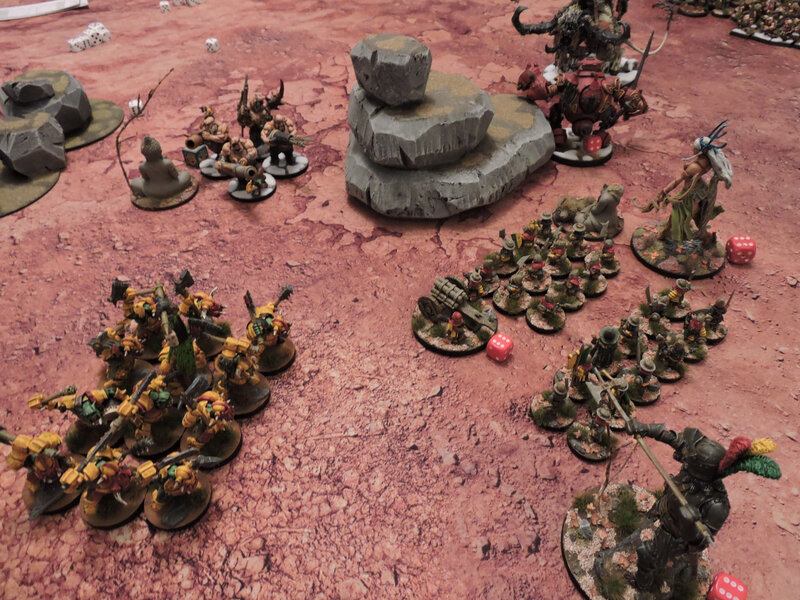 L'infanterie orc se rapproche, il faut briser la ligne, la victoire est a portée de haches... The orc infantry is getting closer, we must break the line, the victory is within reach of axes ...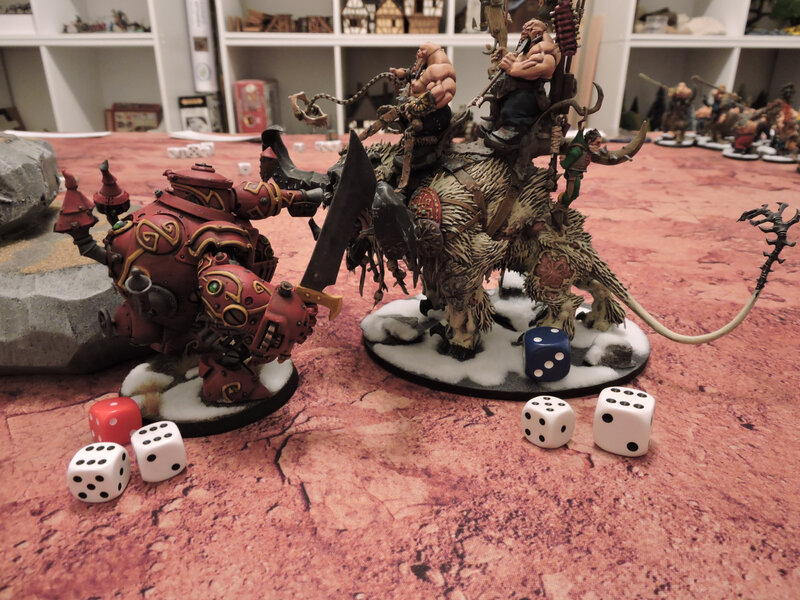 Emportés par la frénésie du combat, le golem et le monstre de cavalerie se lancent dans un mortel échange de coup... Carried away by the frenzy of combat, the golem and the monster of cavalry embark on a mortal fight ...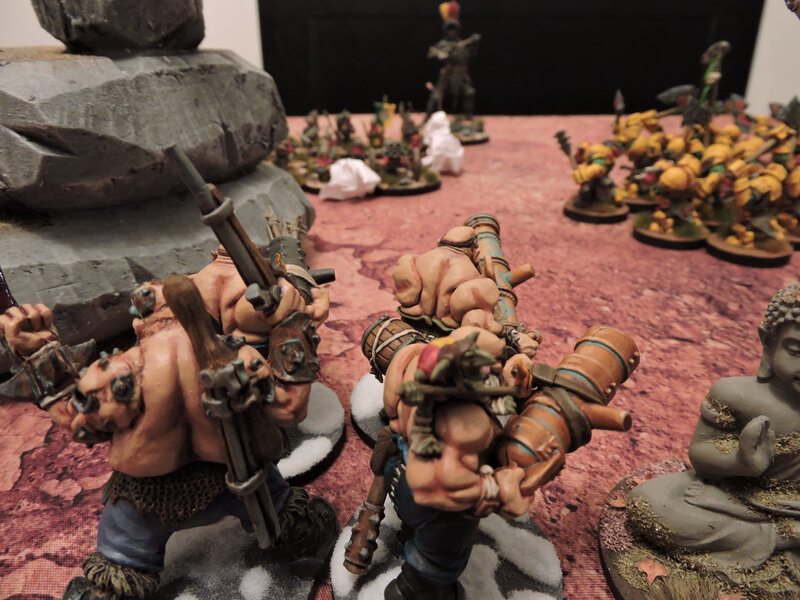 Le canon-orgue est criblé d'impact, mais continue a faire feu! The organ-gun is riddled with impact, but continues to fire!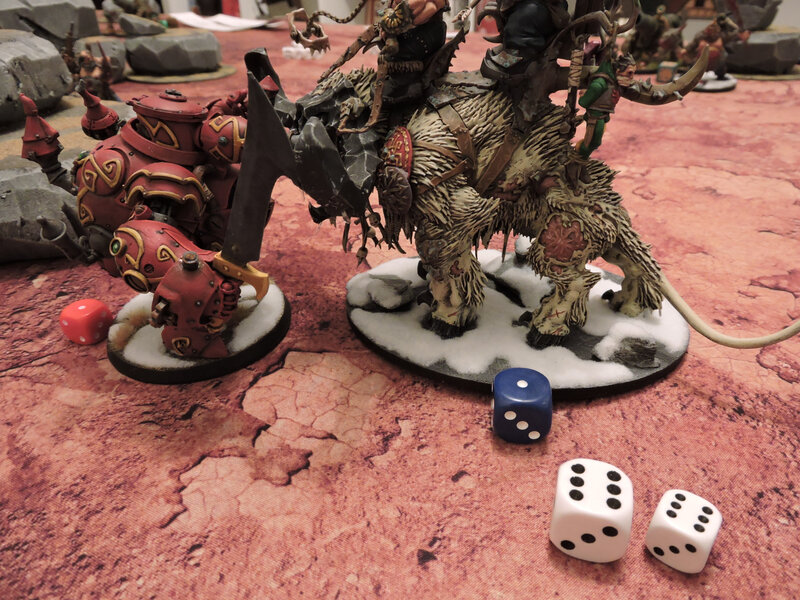 Les deux colosses encaissent de lourds degâts mais tiennent bon...Tests aprés tests, le moral est au plus haut! The two giants take heavy damage but hold on ... Tests after tests, morale is at the highest!
L'infanterie s'interpose pour laisser le temps au géant de charger... The infantry intervenes to give the giant time to charge ...
En vain... In vain...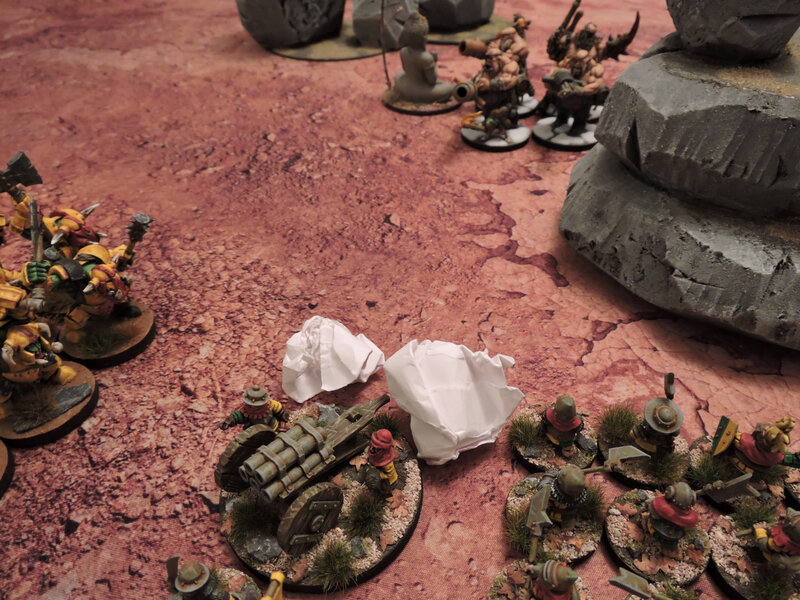 Le canon-orgue est détruit sous la seconde salve des canons ogres...The organ-gun is destroyed under the second salvo of the ogre canons ...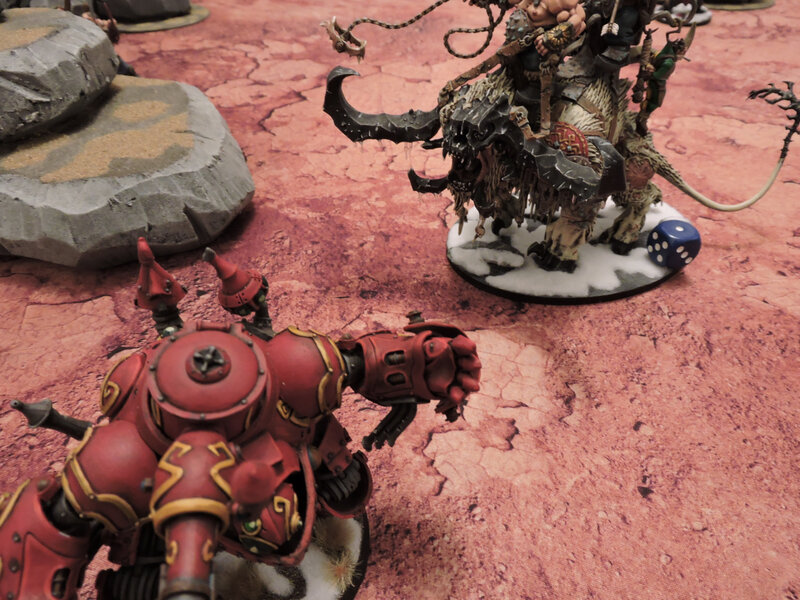 Mais les muscles et la chaire ont raison des pistons et du métal... But the muscles and the pulpit are right pistons and metal ...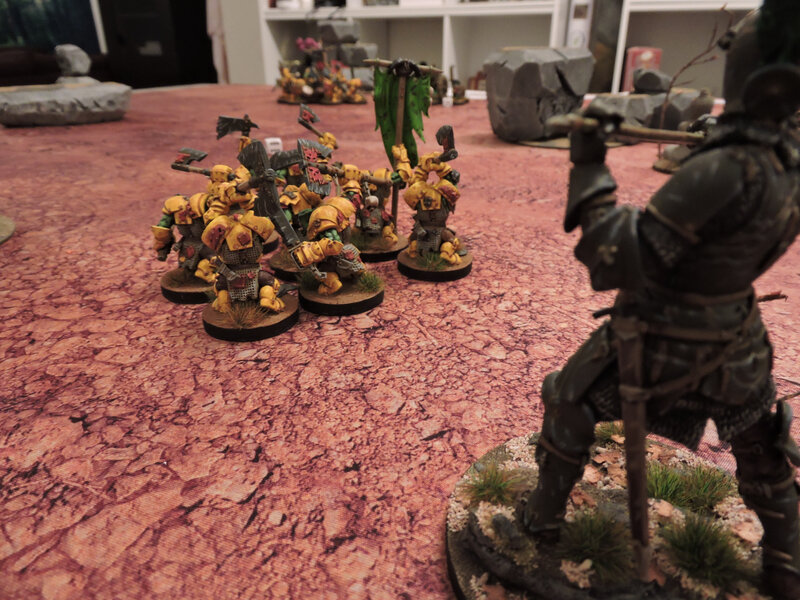 Le Grand Garde-manger, géant armuré grassement nourri par les hobbits, charge et détruit les orcs... The Great Pantry, a giant gnarled heavily by hobbits, charges and destroys the orcs ...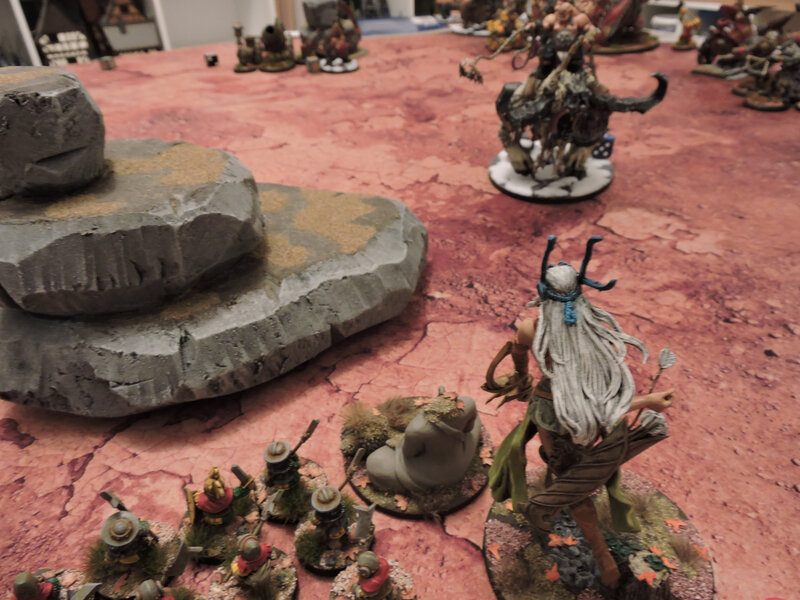 Trait après trait, le monstre s'effondre... Line after stroke, the monster collapses ...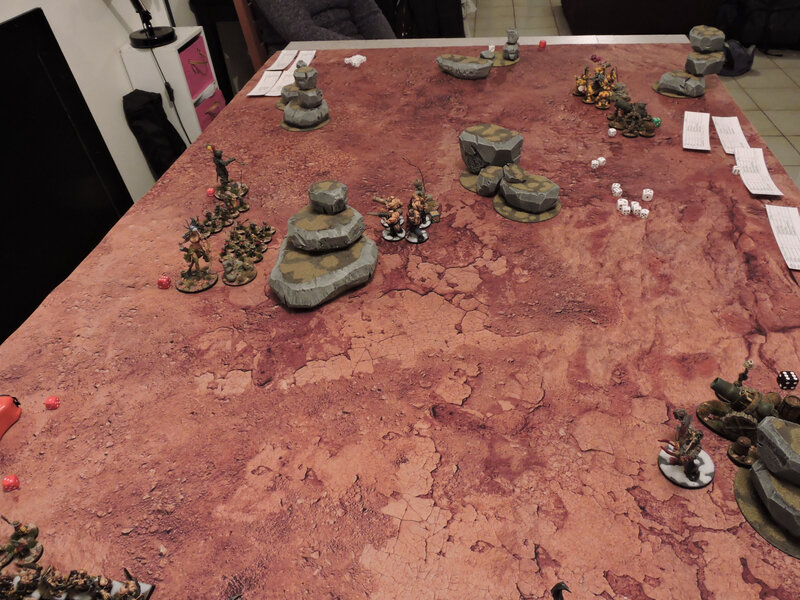 Si les canonniers ogres arrive a massacrer les hobbits, le centre est tenu... If ogre gunners manage to kill hobbits, the center is held ...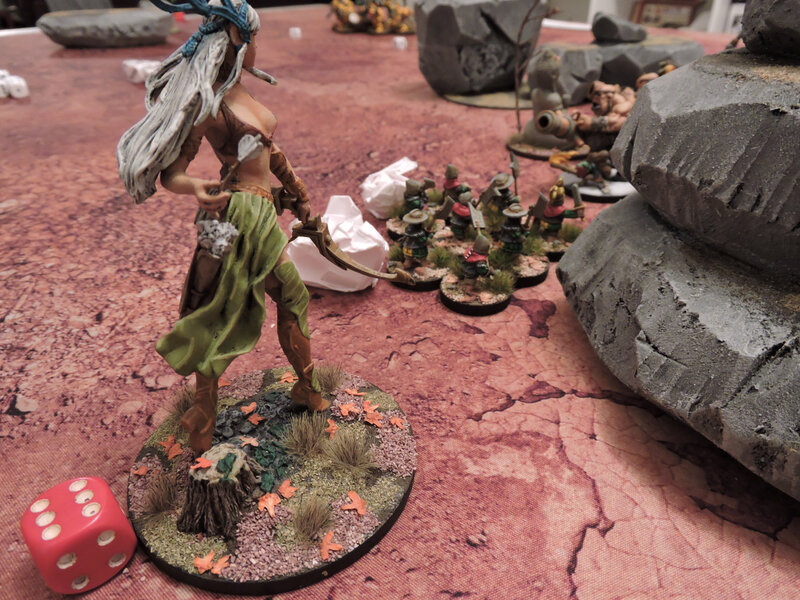 Dans une charge déséperée, les hobbits mordent la poussière! In a desperate charge, hobbits bite the dust!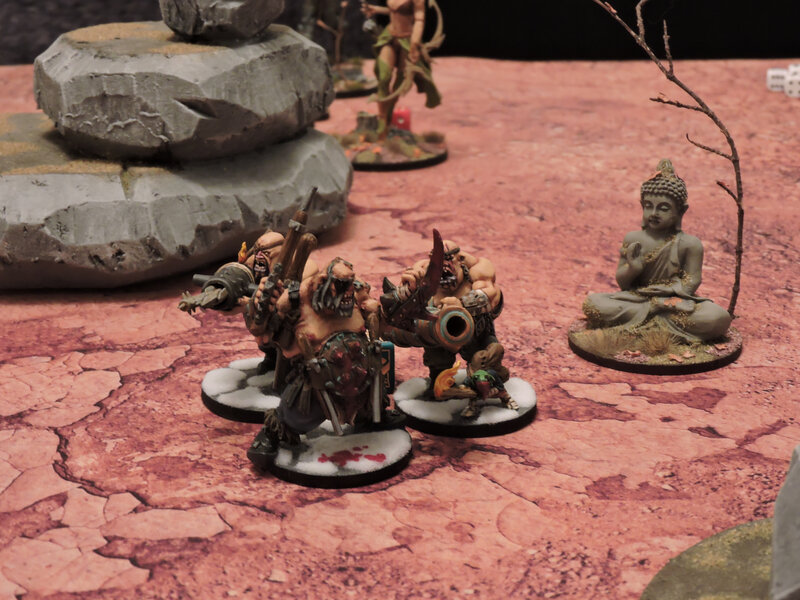 La dernière unité d'ogre menaçant les hobbits est détruite par les flèches d'Yllia...The last unit of ogre threatening hobbits is destroyed by the arrows of Yllia ...
Les survivants du carnage se regroupent à l'abri d'une saillie rocheuse, l'alliance a tenu... The survivors of the carnage gathers at the shelter of a rocky ledge, the alliance held ...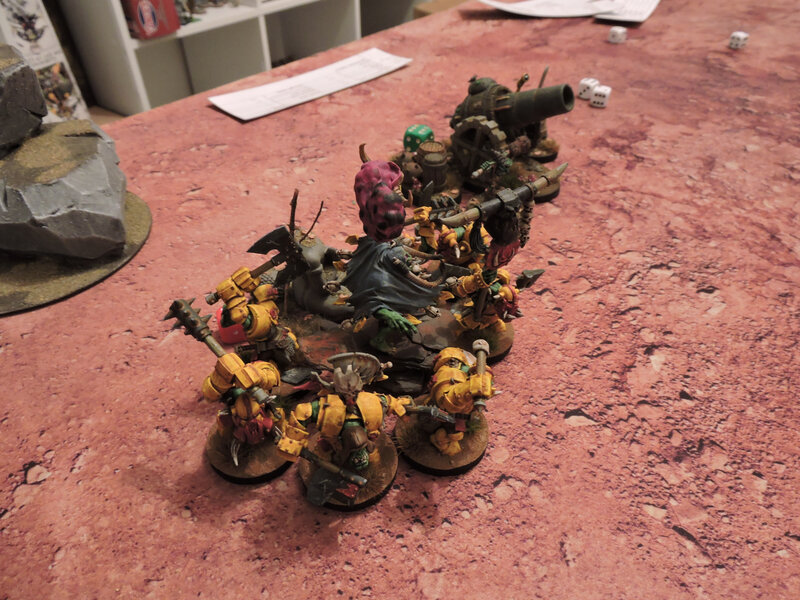 Les orcs tiennent fermement leur point mais ne pouvent aller plus loin, harrassés par la bataille, la horde n'est plus... The orcs hold their point firmly but can not go further, harassed by the battle, the horde is no longer ...
Le vent souffle sur les cadavres rougissant la terre, couvrant les cris des blessés et les râles des mourants... The wind blew on the corpses blushing the earth, covering the cries of the wounded and the groans of the dying ...
"Azarg Kan ruminait du haut de son perchoir, son dragon blessé panser ses plaies à ses côtés, il ne pouvait pas perdre! Comment cela avait-il pût se produire! L'alliance était certe presque décimée, mais il devrait reporter le jour où il foulerait au pied les contrées verdoyantes de l'ouest de l'Empire..."
"Azarg Kan ruminated from the top of his perch, his wounded dragon hiding his wounds at his side, he could not lose, how could that have happened?" The alliance was almost decimated, but it should postpone the day he would trample on the green lands of the west of the Empire ... "
C'est une belle égalité en cette fin de partie, l'alliance ne souhaitant pas se risquer a prendre le centre sous le feu des gobelins, et la horde ne souhaitant pas engagé sa dernière unité dans un combat futile à 1 contre 3 dans les lignes adverses. Belle partie, assez courte finalement au vu du nombre de points dans chaque armée, 88 points pour 4 heures de jeu...
It is a nice tie at the end of the game, the alliance does not wish to venture to take center under the fire of the goblins, and the horde not wishing to engage his last unit in a futile fight to 1 against 3 in the opposing lines. Nice part, short enough finally considering the number of points in each army, 88 points to 4 hours game ...
Merci de m'avoir lu, à bientôt! Thank you for reading me, see you soon!